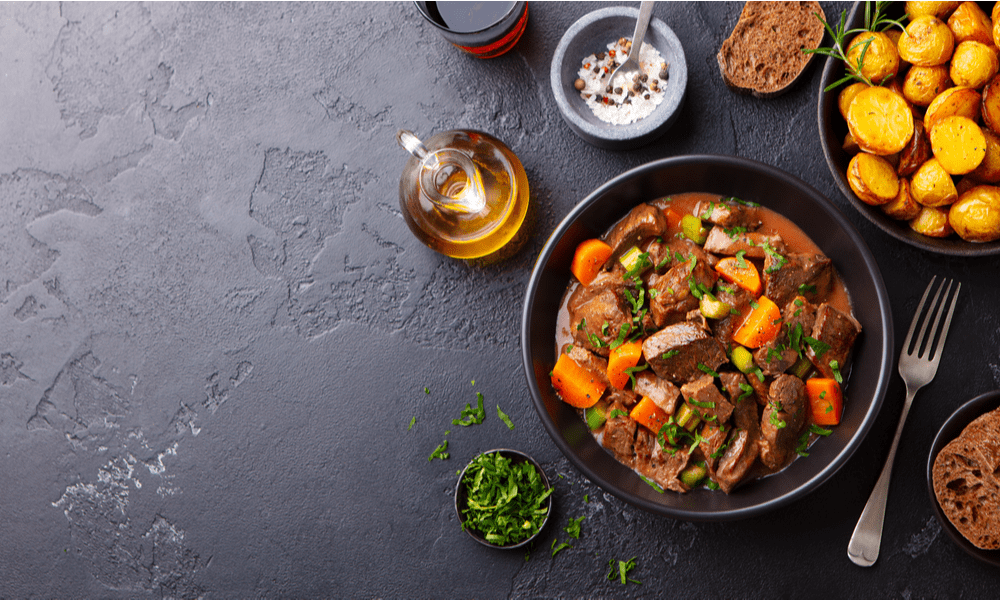 Stout beef stew is a classic warming dish that's perfect for fall! With the addition of red meat, you'll definitely want to find a dark and robust beer. We're big fans of the Tool Shed Flat Cap Stout, which you can order with your groceries from SPUD Calgary! Beer acts as a natural tenderizer, and the yeasty flavour will stand up well against the flavourful meat.
INGREDIENTS
2

 pounds stewing beef

1 1/2 cup

s Flat Cap Stout

1 1/2 cup

s carrots diced

1 1/2 cup

s celery chopped
3 medium potatoes chopped

2

 onions chopped

2

 garlic cloves coarsely chopped

1 cup

 tomatoes diced

2 tbsp

 flour
sprig of fresh thyme
sprig of rosemary
parsley, chopped
salt and black pepper to taste

3 tablespoon

s olive oil
---
INSTRUCTIONS
1. Toss the stewing beef with 1 tablespoon of olive oil, then add in flour, salt, and pepper and continue tossing until seasoning is evenly distributed.
2. Heat up 2 tablespoons of olive oil in a large pan over high heat to brown the meat. Add onions, garlic, tomato. Cover and simmer for 5 minutes.
3. Pour the ingredients into one large pot or casserole. Heat up 3/4 cup of beer in the previous pan to wash up the meat juices before adding it into the large pot along with the other 3/4 cup of beer.
4. Stir in carrots, celery, potatoes, rosemary, and thyme. Cover and simmer over low heat for 2.5 hours.
5. Sprinkle some chopped fresh parsley over the stew to serve!
Enjoy!