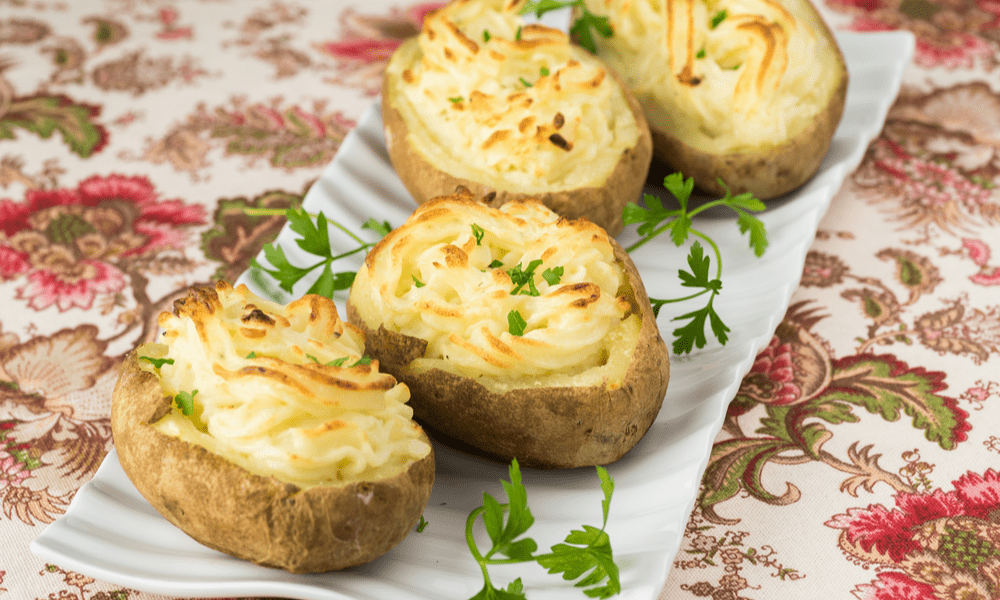 I often write about the underrated potato, a vegetable we really enjoy. When I cook, I don't count calories or think about fat content, whether it is "lite", has carbs or fibre. I just cook and enjoy the results. I really enjoy baked potatoes but sometimes, I will make them a little fancier by scooping out the flesh, mixing it with goodies and re-stuffing the potato skins.
Here is a simple process and recipe to fancy up your potatoes:
Twice Baked Potatoes
Ingredients:
2 extra large potatoes
2 T Avocado oil
2 T unsweetened cashew milk
1 clove garlic minced
2 T. Nutritional Yeast
Salt & Pepper to taste
Directions:
1. Heat oven to 425F.
2. Scrub potatoes, cut out any bad spots and put them in your preheated oven. Bake for 1 hour (slightly longer if potatoes are extra large)
3. Remove potatoes from oven, lower temperature to 375F and cut potatoes in half lengthwise
4. Let them cool for about 20 minutes.
5. In a small bowl, carefully scoop out potato flesh leaving skins intact and put it in a small bowl. With a hand mixer, mix in milk, oil, garlic, yeast and seasonings until well mixed and fluffy. Spoon back into skins or use a piping bag if you want them to look fancier. Bake in 375F oven for 35 minutes.
Enjoy!