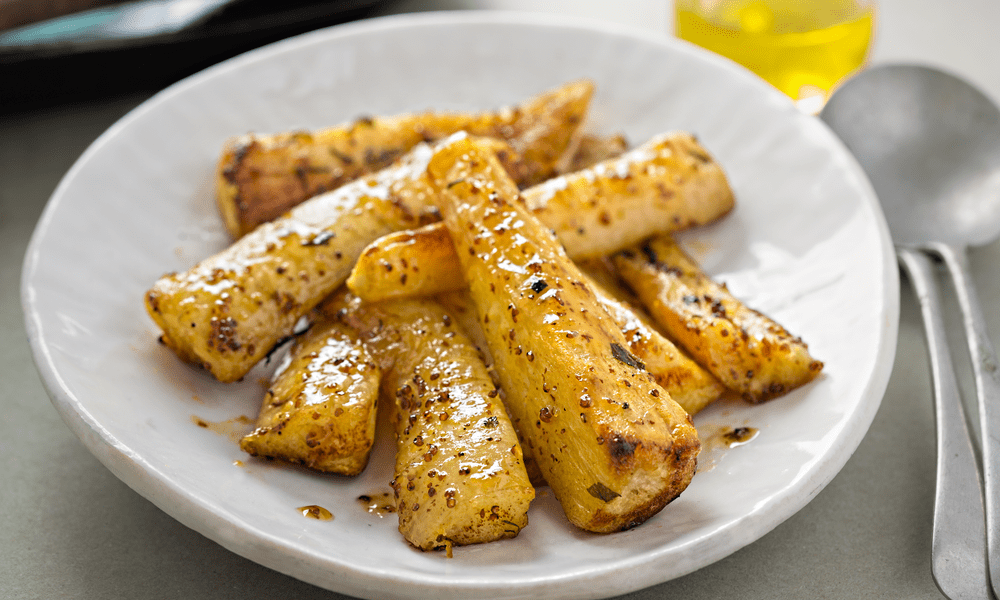 Parsnips often get overlooked. They are sweet, hearty and full of nutritional benefits.  The parsnip is a root vegetable related to both carrots and parsley, while they look like a carrot and the leaves look a lot like parsley! They eaten cooked most of the time, but they can be eaten raw.   
Parsnips nutritional benefits include a high amount of vitamins, potassium and magnesium, and a good source of fiber. Parsnips can be used in the same ways as carrots, though the parsnip flavour is sweeter, especially when cooked, more like a great sweet potato.   
Do you ever look at a parsnip and wonder what do I do with this? Let's get cooking with these 5 tasty 
parsnip 
recipes
:
Simple Roasted Parsnips   
Roast Parsnips perfectly in a melody of other vegetables with your favourite seasonings or simply coat them with salt, pepper and olive oil.   
Warm-up with this creamy bowl of goodness. This soup is sweet but savoury, creamy but not too heavy and super simple to make with all your pantry staples.    
Vegetable Shepherd's Pie   
Make your favourite shepherd's pie recipe and make a mashed parsnip and potato mixture for the top; adding the parsnip will add a sweet layer that you will love! Alternatively, you can add parsnips into the base with the classic carrots, peas and corn for extra heartiness.   
Spicy Honey Glazed Parsnips  
2 pounds parsnips, peeled, cut lengthwise   
¼ cup olive oil  
Salt and Pepper  
¾ tsp. crushed red pepper flakes  
2 tablespoons butter  
1 tablespoon apple cider vinegar  
1 tablespoon honey  
Preheat oven to 450°. Toss parsnips, oil and salt and pepper in a bowl to coat the parsnips evenly and add to a baking pan. Roast parsnips, occasionally tossing for even cooking, until tender and crispy about 35–40 minutes.  
Melt the butter with the dried chilis, butter, vinegar and honey in a small pan or in the microwave and stir to avoid burning. Drizzle the butter over the cooked parsnips and enjoy!   
 Vegetable mash   
You can never go wrong with mashing some parsnips. Boil the parsnips with other vegetables like potatoes, squash and carrots. Add some butter, salt and pepper, a dash of brown sugar and mash. Serve as the perfect side to your Sunday roast! 
Parsnips are versatile and the perfect winter vegetable. What do you do with parsnips? Let us know in the comments below!