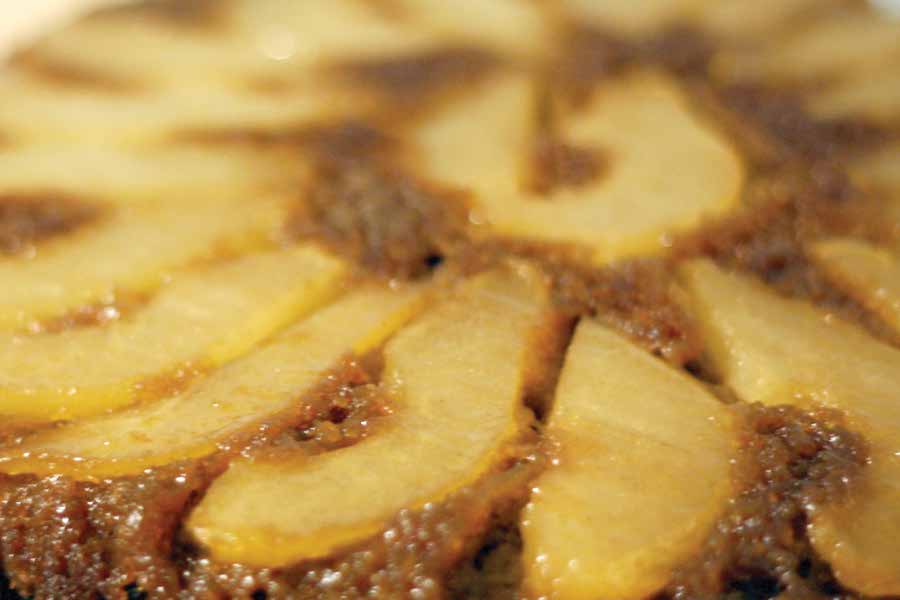 Bosc Pear Gingerbread Upside-Down Cake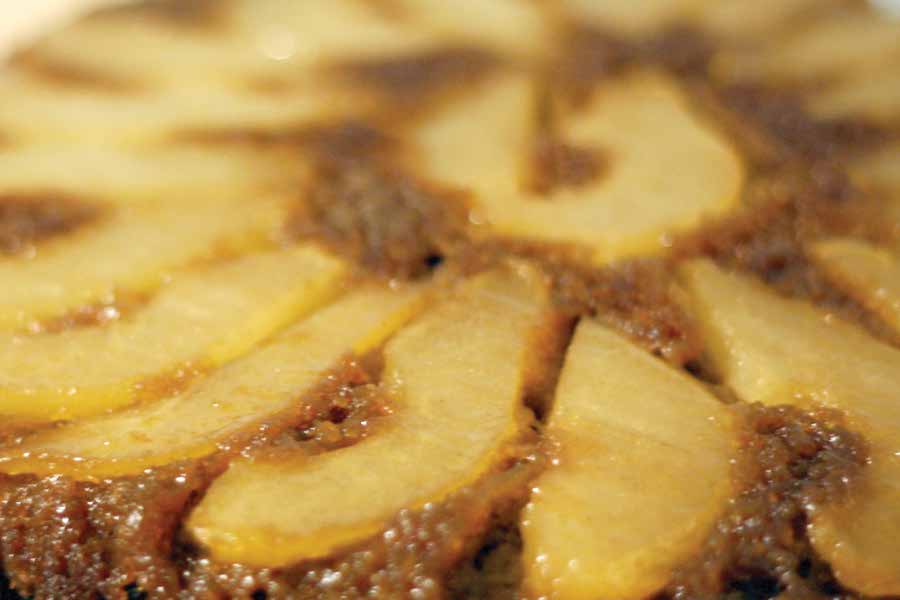 Topping
4 tablespoons butter, plus extra for greasing pan
1/2 cup dark brown sugar
Pinch of salt
3-4 Bosc pears, peeled, cored and cut into eighths
Batter
1/2 cup butter, at room temperature
1/2 cup sugar
1 large egg
1/3 cup dark molasses
1/3 cup honey
1 cup buttermilk (or non dairy milk plus 1tsp lemon juice)
2 1/4 cups flour (or all-purpose gluten free flour)
1 teaspoon baking soda
1/2 teaspoon salt
1 teaspoon ground ginger
1 teaspoon cinnamon
3 tablespoons minced crystallized ginger
Preheat oven to 325°F. Grease a 10-inch cake or springform pan.
Make the topping
Melt 4T butter in a small saucepan. Add brown sugar and simmer over moderate heat, stirring, four minutes, then swirl in salt. Remove from heat and pour into the bottom of your cake pan.
Make circles of overlapping pear slices on top of the caramel.
Chop any remaining slices and stir into batter with chopped ginger.
Make the batter
Using a mixer, blend 1/2 cup butter and the sugar on medium-low speed. Increase the speed to high and cream until light and fluffy.
In another bowl, whisk together the egg, molasses, honey and butter-milk. In a separate bowl, sift together the flour, baking soda, salt, ginger and cinnamon.
Combine all three by alternatley mixing the flour and molasses mixtures into the butter mixture, adding the next once the last has been incorporated. Stir in crystallized ginger. Pour the batter into the pan. Bake 45 to 50 minutes or until a wooden tester inserted into the center of the cake comes out clean. Let cool on a rack for 10 to 15 minutes, then turn out onto a platter.
Serve with whipped cream, or ice cream, if desired. Serve warm or cool with very softly whipped cream.
Healthy Holiday Truffles
Once you have a basic truffle recipe or two made, there are dozens of variations for flavours and coatings.
Almond Butter Truffles 
1 cup almond butter
1 cup coconut flour or shredded coconut
1 T – 1 /4 cup honey or agave, to taste
1 tbsp coconut oil or Earth Balance, melted
1 tsp vanilla extract
Almond Date Truffles 
20 medjool dates, pitted & chopped
1 teaspoon vanilla extract
1/2 teaspoon almond extract
4 T creamy almond butter
2 T coconut butter
4 T unsweetened coconut flakes
4 T dark cocoa powder
1 /4 teaspoon salt
Cashew Date Coconut Truffles 
1 cup cashew butter
10 medjool dates, pitted and chopped
1 cup shredded coconut
1 tsp vanilla extract
1 /2 cup coconut butter
1 /2 tsp ground cardamom or 1 T lemon zest
Chocolate coating for one batch of truffles 
1/2 cup Enjoy Life Chocolate Chips
1 tbsp coconut oil or Earth Balance, melted
Optional flavorings (amounts are for a full batch) 
1 T orange zest
1/2 tsp cinnamon
1/4 tsp cayenne
1/4 cup chocolate chips
Options for rolling truffles
Chopped nuts
Shredded coconut
Cocoa powder
Mini chips
Sip or drizzle with melted dark chocolate
Directions
Combine all truffle ingredients in a food processor until everything is well incorporated.
Add optional flavours. If making different flavors- separate out into bowls, add flavour, knead to combine.
Scoop out a spoonful, roll into bite sized balls and set on a baking sheet lined with wax paper. Next, roll each truffle in your choice of toppings like coconut or cocoa powder. Allow to harden in freezer for about 30 minutes.
Prepare your chocolate coating 5 minutes before removing truffles from the freezer, by melting chocolate and coconut oil in a double boiler. Once melted, take chocolate off heat and use a toothpick to dip the truffles, covering them completely or partially. You could also just use a spoon to drizzle a little chocolate over each one.
Place truffles back on the wax paper and allow chocolate to harden in the fridge/freezer. Transfer into a container, with wax paper between each layer, store in fridge until ready to serve.