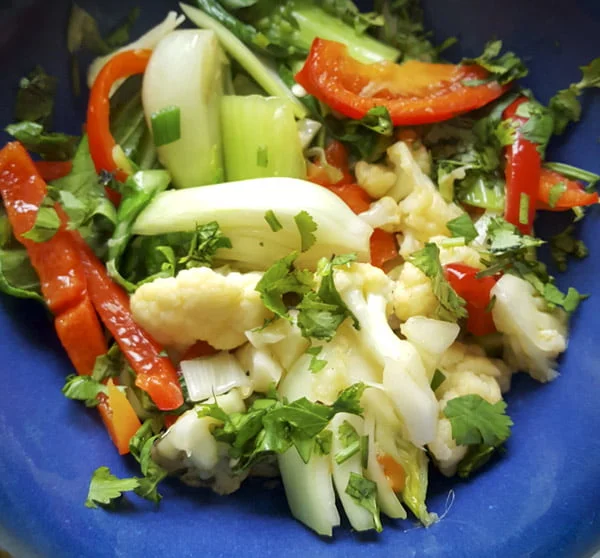 Fast, light and packed with nutrients! Serve on its own or with sauce and your favorite rice, noodle or grain.
1 lb bok choy  – chopped into pieces, rinsed
1 small cauliflower (~2 cups) – chopped into small florets and pieces
1 red pepper – sliced
1/2 bunch green onions – finely chopped
2″ piece of ginger (or more to taste) – grated
1/2 tsp salt or to taste – can use coconut aminos/tamari or soy sauce
Cooking oil for for wok (about 2 tablespoons) – coconut oil is good
Optional garnishes – cilantro, toasted sesame seeds, toasted almonds, grated carrots, green onions, cayenne pepper
The NAAM Peanut, Miso or Thai Sauce – not necessary but great if serving with rice, quinoa or other grain
Directions:
Prepare all the ingredients, as the cooking process is fast.
Heat wok or skillet to med-high heat. Add oil and let it heat for about a minute, being careful not to overheat.
Add cauliflower and ginger, sauté for 1-2 minutes. If too dry, add a splash of water.
Add peppers and green onions, sauté another minute.
Add bok choy and salt, sauté another 1-2 minutes. Do not over-cook.
Taste and add salt if necessary. If you wish to add a sauce, you can stir it in just until it warms/combines.