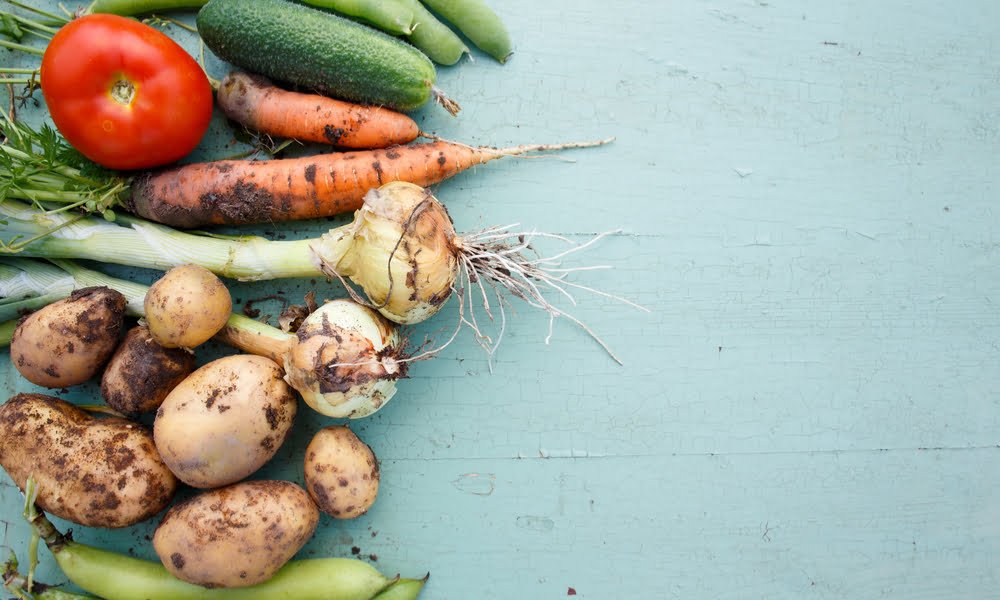 Tips to Buying and Preparing Organic Food on a Budget
A Guest Post By Grace C. Visconti
For the last few years, many Albertans have experienced challenging economic situations. If you're a vegan, vegetarian, or meat eater who prefers to shop organic, there are ways to rise above any restrictions of a low budget. Whether you're on a fixed income, employment insurance, using up a severance package or your savings, there are strategic ways to buy and prepare organic food.
Avoid Eating Out
First and foremost, try not to eat out since that will break a budget faster than expected. By the time you pay for a meal and the tip, you've just blown a few days of your food budget. Rewarding yourself for surviving the month by eating out once a month might be doable but grocery stores now have take-out nutritious meals which are less expensive than a restaurant meal. Think about how much bulk food you can buy with the $20 dollars you just spent on lunch.
Homemade sweet snacks like cookies are less expensive too. Find organic cookie and treat recipes then make batches and freeze them. It will cost far less and you can snack when you're hungry. Be inventive and think practical especially when the usual amount of money isn't there and the cupboard might be bare for longer periods of time compared to when a larger budget was available.
Meal planning is a great way to avoid eating out. Check out our tips on how to effectively meal plan here.
Buy Bulk Food
Singles, couples and families can make meals that last longer by changing a few shopping habits. For starters, buy more bulk food and make meals that will last longer by freezing them. Chilies, soups or crock pot meals can last longer compared to planning for just breakfast, lunch and dinner.
Make buying and prepping food during challenging times fun. When you're in an extended period of underemployment and uncertainty, it's time to get creative! Being frugal and creative can result in some simple nutritious and delicious meals. The great part about buying bulk organic foods is that they last longer. For example, if you're a vegan or vegetarian, you can stock up on green and red lentils, yellow and green peas, brown rice, quinoa, an assortment of beans, nuts, seeds, granolas, and brown rice pasta. For vegetarians, eggs are a great source of protein and vitamins and are more economical than the expensive choices meat eaters have to choose from.
Make Good Use of the Internet
Search for Recipes
Do research on the Internet of how many ways you can make use of your bulk food ingredients. For example, start with a few bulk items and do a search for how many dishes you can make and see what pops up. Most recipes on the Internet are free which is a bonus. Do a search of how many ways you can cook with quinoa, beans, rice, lentils or all of the above. The Internet is a great resource. Check out webinars on how to make nutritious food on a frugal budget. Join free food groups on the web since other people may be searching for how to survive on a low budget as well. Mingle, share, connect, you never know when a job is lurking around the corner or who you're going to meet. It's all about networking.
Join Meetup Groups
Join local meetup cooking and food groups because it not only gets you out of the house, but it also can be a pleasant distraction from the time consuming task of job hunting. Many meetup groups have potlucks and it's a great way to mingle with people who will share their food. It's about community. If you don't have the money to bring a meal, then make a batch of nutritious organic cookies to share.
Search for Sales
Search for deals and specials on organic food items. The Internet is a quick way to investigate where the best sales are at your neighbourhood health food and grocery stores. Most stores sell organic and compete with each other for a customer's purchasing power.
Save on Protein Purchases
Make Your Own Nut Milk
Nut milk is very expensive so it's easier and more cost effective to make your own. One carton of almond milk is pricey and doesn't last long. Buy your own fresh almonds and blend them yourself. You'll end up with double the amount of almond milk compared to one carton of almond milk and the bonus – it's fresh and is a good source of protein on the lean days when you're low on food. And if you're wondering what to do with almond pulp, check out some recipes here.
Allergic to nuts? Try making your own sunflower seed milk!
Buy Bean Noodles
Bean noodles are not only a great source of protein, but they are lower in carbs than rice noodles or Durum Semolina pasta and they are available as gluten free products. There are so many bean noodle recipes on the Internet or you can whip up a bean noodle vegetable combination by experimenting.
Quinoa
The Food and Agricultural Organization of the United Nations (FAO) officially declared 2013 to be "The International Year of the Quinoa" due to its high nutritive value. It's easy to prepare and it's loaded with protein. Plus, the FAO discovered that quinoa has two flavonoids – quercetin and kaempferol. The concentration of these two flavonoids may be just as high or higher than high-flavonoid berries like cranberries. Quinoa is known for its high antioxidant content and vitamin E family nutrients like alpha, beta, gamma, delta-tocopherol, and is loaded with manganese, copper, phosphorus, magnesium, fiber, folate, and zinc.
Given its higher fat content, quinoa doesn't get oxidized as rapidly when cooking it which means that boiling, simmering, and steaming quinoa doesn't lose nutrients after it's cooked. Additionally, it has a low glycemic index which is great news for people with food sensitivities and allergies. Quinoa is so popular now as a protein, that athletes are eating it.
The great part about quinoa is that you can buy it in bulk, cook in bulk, make many different kinds of delicious meals, and with flourless desserts. Quinoa is classified as a seed making it neither a cereal nor a grain. Nutritionally, it's more closely related to spinach and beets.
Make Your Own Pizza
Buying frozen pizzas crusts without the topping is inexpensive and a great way to experiment with making your own pizzas. This is a highly versatile food since fresh toppings can be made with or without meat and it's a filling meal. Gluten free/wheat free options are available at most health food and grocery stores. Plus, it's a relatively inexpensive meal to make compared to a steak dinner especially when you can add pieces of deli meat as one of the toppings to get your daily protein. Check out our favourite homemade pizza recipe here.
Fish and Meat
There are a few ways you can save on organic fish and meat when purchasing. Instead of buying small individual fish steaks, buy a whole fillet, chop it into pieces and freeze it. You can then take out the pieces and make fish stews that last for a few meals or you can make fish and meat shish kebobs and mix them with veggies. Another idea is to make grain fed meatballs and freeze them rather than just buying individual pieces of steak which can be really expensive.
Make Your Own TV Dinners
This is one of the most economical ways to save money. Do a major shop and plan on taking one day to create 3 sets of TV dinners netting around 15 meals then freeze them. The benefit of preparing meals this way is that you're only messing up the kitchen for one day. You can take a meal out of the freezer and warm it up if you're too busy to cook and it's convenient to have when you're low on food. It saves time, money, and you're not throwing out spoiled food that you didn't have a chance to use.
Turn Challenges into Positive Experiences
Don't let tough times be a restrictive factor in reinventing your meals or habits. Much inspiration, sharing, learning, and the usual patterns of everyday living can be experienced and redefined. Buy and prepare organic food in ways you had not thought of before whether you're on a shoestring budget or no budget at all. Create a cookbook as a result of your experimentation. We have a choice to create our way out of challenging situations and turn them into positive experiences.
Grace C. Visconti is a visual artist and writer from Calgary. Learn more about her work at www.eagleheartdynamic.com.