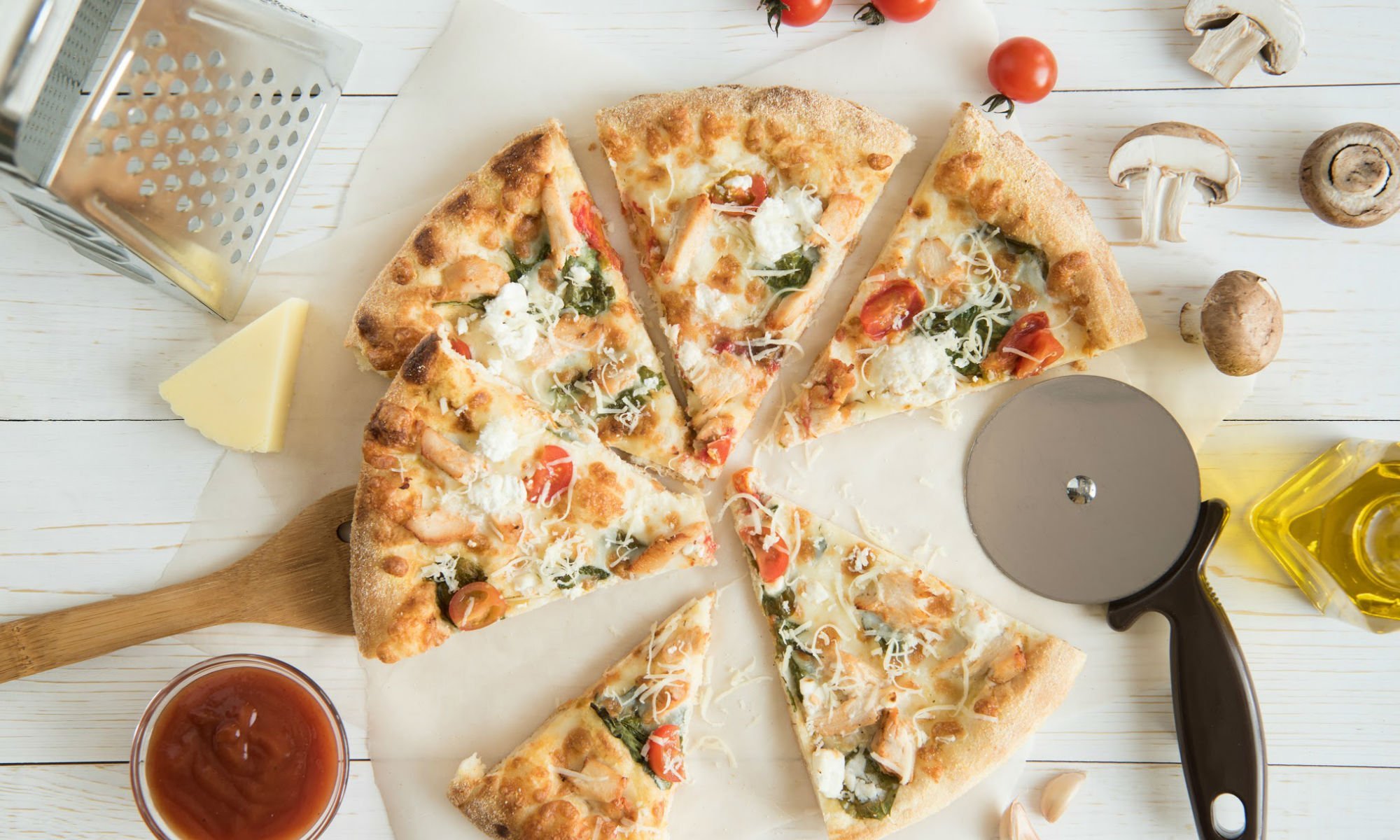 What's the best way to actually enjoy making dinner AND involve the whole family, too? That's right, homemade pizza. Making pizza is arguably one of my favourite dinners because it's easy and versatile. My partner and I make them often, and it's great because we have different food preferences (he loves meat and I love veggies), so we can even have personal pizzas if we wish! Here's the formula on how to make perfect homemade pizza.
Easy + Healthy Homemade Pizza
Step 1) The crust.
You have two choices here: make your own or buy them premade. To make your own, follow these instructions (via Martha Stewart). For premade, buy them here.
Step 2) Your sauce.
Depending on what kind of pizza you make, your sauce will vary. Here are some options:
White/cream sauce

Olive oil
The smart thing to do here is to pick your type of pizza, and then choose the sauce. If you want something meat or veggie laden, then maybe tomato is your best bet. If you want something with kale and mushrooms, then pesto or a white sauce is a good choice. If you're out of sauce, olive oil works well with nearly everything.
Step 3) Your toppings.
Since you've picked your sauce, I'm assuming you already have an idea of your toppings. Here are a variety of topping combos you can go with:
The Pesto, Mushroom, And Kale.

Great guess! This

does

have pesto, mushroom, and kale on it. It's great with parmesan, or if you're vegan, nutritional yeast.

The "Every Veggie Imaginable" Za.

Basically whichever veggies you can find in your fridge. I like peppers, broccoli, kale, mushrooms, tomatoes, etc. Top with mozza, or if you're vegan, non-dairy cheese. This works well with a tomato-based sauce.

The Meat Lover.

Yep, as you can probably guess, this involves lots of meat. Salami, sausages, bacon… they all work. Pick your poison. This is also good with a tomato-based sauce.

The Hawaiian.

Personally, I'm not a fan of Hawaiian pizza (to me it's one of those things that should have never been created, kind of like that time Heinz made purple ketchup), but for some reason people love it. You know the drill: tomato sauce + ham + pineapple + cheese. Easy as (pizza) pie.
During this step, make sure to add your toppings first and then your cheese. I go heavy on the cheese here, but you do you.
Step 4) Bake.
Ideally, pizza stones are great for this, but not all of us are made of money. A regular pan (or an upside-down sheet pan!) will do. If you made your crust from scratch, then bake your za at 400 F for about 25-30 minutes, OR 500 for about 10 minutes. You don't have to be strict here: just take the pizza out when the cheese melts and the crust is golden. If you have a pre-made crust, follow the instructions on the package.
Step 5) Eat up!
You did it! Your homemade pizza night was a success and the whole fam loved it. Time to schedule your next pizza night. Find all your necessary pizza ingredients at any Blush Lane store!