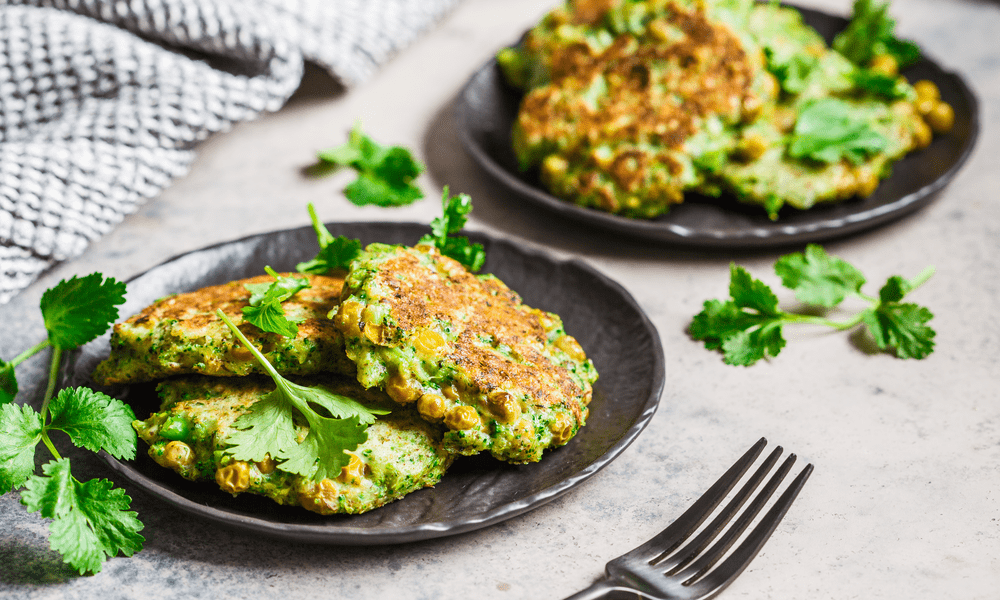 Say goodbye to overcooked, soggy mini trees, and hello to tasty, crispy broccoli fritters! If you don't want green, cheesy pancake/fritters…you're missing out. These baked fritters will make you a die-hard broccoli fan (you should also try roasting broccoli – it's great!).
The fritters are:
Crispy
Savoury
Packed full of veggies
Baked, not fried
These are easy to whip up – just blend in a food processor and bake! Here's how to get started!
Ingredients
3 cup

s broccoli, roughly chopped

¼ cup

 onion, roughly chopped

1

 clove garlic, minced

1/3 cup

 parmesan cheese, shaved

1/3 cup

 flour

1

 large egg

1 tsp

 salt

¼ tsp

 black pepper
Oil cooking spray (avocado, olive, coconut, etc.)
Instructions
Set the oven to 400°F.
Add chopped broccoli and onion to a food processor and pulse together. You'll still want some texture, so don't over mix!
Add the rest of the ingredients (except cooking spray) to the food processor and pulse to combine. You want a consistency that can stick together, but still has some texture.
Shape the mixture into 8-10 patties and place them on a baking sheet (or two) lined with parchment paper or a silicone baking mat. Make sure the patties aren't touching and give them a light spray with cooking oil.
Bake for 12-15 minutes. Take the fritters out, flip them, spray lightly with oil on the flipped side, and return to the over for another 10-15 minutes.
Let the fritter cool a little before serving.
You can also try these fritters in a pan, if you prefer. Keep extra fritters in the fridge for ~2 days or store them in an airtight container in the freezer for use later.