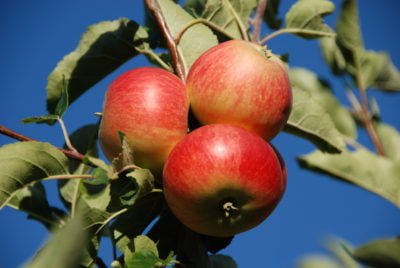 [av_textblock size=" font_color=" color="] Summer has quickly turned to Autumn at the Blush Lane Organic Orchard. The cool nights are great for bringing out a deep red blush and sealing in the sweetness of our mid-Autumn apples.
Crisp, classic McIntosh, juicy and ever-popular Honeycrisp and delightful green Shamrock apples are ready now.
Our last variety of peaches, O'Henry, have been harvested. Enjoy them while they last!
Alberta and BC root vegetables and winter squash harvests have begun. It's definitely feeling like the season for root vegetable stews and soups.
[/av_textblock] [av_gallery ids='780,698,699′ style='thumbnails' preview_size='portfolio' crop_big_preview_thumbnail='avia-gallery-big-crop-thumb' thumb_size='portfolio' columns='3′ imagelink='avianolink noLightbox' lazyload='avia_lazyload'] [av_hr class='default' height='50' shadow='no-shadow' position='center' custom_border='av-border-thin' custom_width='50px' custom_border_color=" custom_margin_top='30px' custom_margin_bottom='30px' icon_select='yes' custom_icon_color=" icon='ue808′] [av_textblock size=" font_color=" color="]
2016 BC ESTIMATED HARVEST DATES
[/av_textblock] [av_textblock size=" font_color=" color="]
Organic Fruits
[/av_textblock] [av_table purpose='tabular' pricing_table_design='avia_pricing_default' pricing_hidden_cells='avia_show_empty_cells' caption=" responsive_styling='avia_responsive_table'] [av_row row_style='avia-heading-row'][av_cell col_style="]TYPE/NAME[/av_cell][av_cell col_style="]VARIETY[/av_cell][av_cell col_style="]HARVEST DATES[/av_cell][/av_row] [av_row row_style="][av_cell col_style="]CHERRIES[/av_cell][av_cell col_style="]Raineer, Queen Anne, Vans, Sylvia, Sams, Stella, Lapins, Sweetheart [/av_cell][av_cell col_style="]June 15th – July 7th[/av_cell][/av_row] [av_row row_style="][av_cell col_style="]APRICOTS[/av_cell][av_cell col_style="]Tom Cots, Sundrops, Rivals, Goldrich, Tiltons[/av_cell][av_cell col_style="]June 23rd – July 23rd[/av_cell][/av_row] [av_row row_style="][av_cell col_style="]PLUMS[/av_cell][av_cell col_style="]Crimean, June Plums, Early Blue Prune Plums, Santa Rosa, Shiro, Red Hearts, Elephant Hearts, Black Friars,
Duarte, Damson, Italian Prune Plums
[/av_cell][av_cell col_style="]July 7th – September 10th[/av_cell][/av_row] [av_row row_style="][av_cell col_style="]EARLY PEACHES [/av_cell][av_cell col_style="]Early Peaches/Clingstone: Flaming Fury, Rising Star, Early Red Haven [/av_cell][av_cell col_style="]July 5th – July 31st[/av_cell][/av_row] [av_row row_style="][av_cell col_style="]SUMMER APPLES[/av_cell][av_cell col_style="]Sunrise, Discovery, Vista Bella, Akane[/av_cell][av_cell col_style="]July 25th – August 15th[/av_cell][/av_row] [av_row row_style="][av_cell col_style="]PEACHES[/av_cell][av_cell col_style="]Freestone: Red Haven, Harbrite, Glo Haven, Crest Haven, Flamecrest, O'Henry Organic Canning Peaches[/av_cell][av_cell col_style="]August 1st – September 15th[/av_cell][/av_row] [av_row row_style="][av_cell col_style="]NECTARINES[/av_cell][av_cell col_style="][/av_cell][av_cell col_style="]July 23rd – September[/av_cell][/av_row] [av_row row_style="][av_cell col_style="]EARLY AUTUMN APPLES[/av_cell][av_cell col_style="]Gala, Gale Gala, McIntosh, Honeycrisp, Shamrock, Spartans[/av_cell][av_cell col_style="]September[/av_cell][/av_row] [av_row row_style="][av_cell col_style="]LATE AUTUMN APPLES[/av_cell][av_cell col_style="]Ambrosia, Braeburn, Sweet Orin, Granny Smith, Fuji, Pink Lady[/av_cell][av_cell col_style="]September 25th – October 30th[/av_cell][/av_row] [av_row row_style="][av_cell col_style="]MELONS[/av_cell][av_cell col_style="]Galia, Honeydew, Musk, Canteloupe, Watermelon[/av_cell][av_cell col_style="]September[/av_cell][/av_row] [/av_table] [av_hr class='default' height='50' shadow='no-shadow' position='center' custom_border='av-border-thin' custom_width='50px' custom_border_color=" custom_margin_top='30px' custom_margin_bottom='30px' icon_select='yes' custom_icon_color=" icon='ue808′] [av_textblock size=" font_color=" color="]
Organic Vegetables
[/av_textblock] [av_table purpose='tabular' pricing_table_design='avia_pricing_default' pricing_hidden_cells=" caption=" responsive_styling='avia_responsive_table'] [av_row row_style='avia-heading-row'][av_cell col_style="]TYPE[/av_cell][av_cell col_style="]VARIETIES[/av_cell][av_cell col_style="]HARVEST DATE[/av_cell][/av_row] [av_row row_style="][av_cell col_style="]VEGETABLES[/av_cell][av_cell col_style="]Summer Squash[/av_cell][av_cell col_style="] July[/av_cell][/av_row] [av_row row_style="][av_cell col_style="]VEGETABLES[/av_cell][av_cell col_style="]Greens, Beans, Peas[/av_cell][av_cell col_style="]July – August[/av_cell][/av_row] [av_row row_style="][av_cell col_style="]VEGETABLES[/av_cell][av_cell col_style="]Cherry Tomatoes[/av_cell][av_cell col_style="]July – August[/av_cell][/av_row] [av_row row_style="][av_cell col_style="]VEGETABLES[/av_cell][av_cell col_style="]Cucumbers[/av_cell][av_cell col_style="]July 5th – August 30th[/av_cell][/av_row] [av_row row_style="][av_cell col_style="]VEGETABLES[/av_cell][av_cell col_style="]Garlic[/av_cell][av_cell col_style="]July 15th – August 15th[/av_cell][/av_row] [av_row row_style="][av_cell col_style="]VEGETABLES[/av_cell][av_cell col_style="]Field Tomatoes & Heirloom Tomatoes[/av_cell][av_cell col_style="]August 10th – September 15th[/av_cell][/av_row] [av_row row_style="][av_cell col_style="]VEGETABLES[/av_cell][av_cell col_style="]Peppers[/av_cell][av_cell col_style="]August 15th – September 15th[/av_cell][/av_row] [av_row row_style="][av_cell col_style="]VEGETABLES[/av_cell][av_cell col_style="]Onions[/av_cell][av_cell col_style="]August 15th – September 30th[/av_cell][/av_row] [av_row row_style="][av_cell col_style="]VEGETABLES[/av_cell][av_cell col_style="]Winter Squash[/av_cell][av_cell col_style="]September 30th[/av_cell][/av_row] [av_row row_style="][av_cell col_style="]VEGETABLES[/av_cell][av_cell col_style="]Root Vegetables[/av_cell][av_cell col_style="]September[/av_cell][/av_row] [/av_table] [av_image src=" attachment=" attachment_size=" align='center' styling=" hover=" link=" target=" caption=" font_size=" appearance=" overlay_opacity='0.4′ overlay_color='#000000′ overlay_text_color='#ffffff' animation='no-animation'][/av_image]