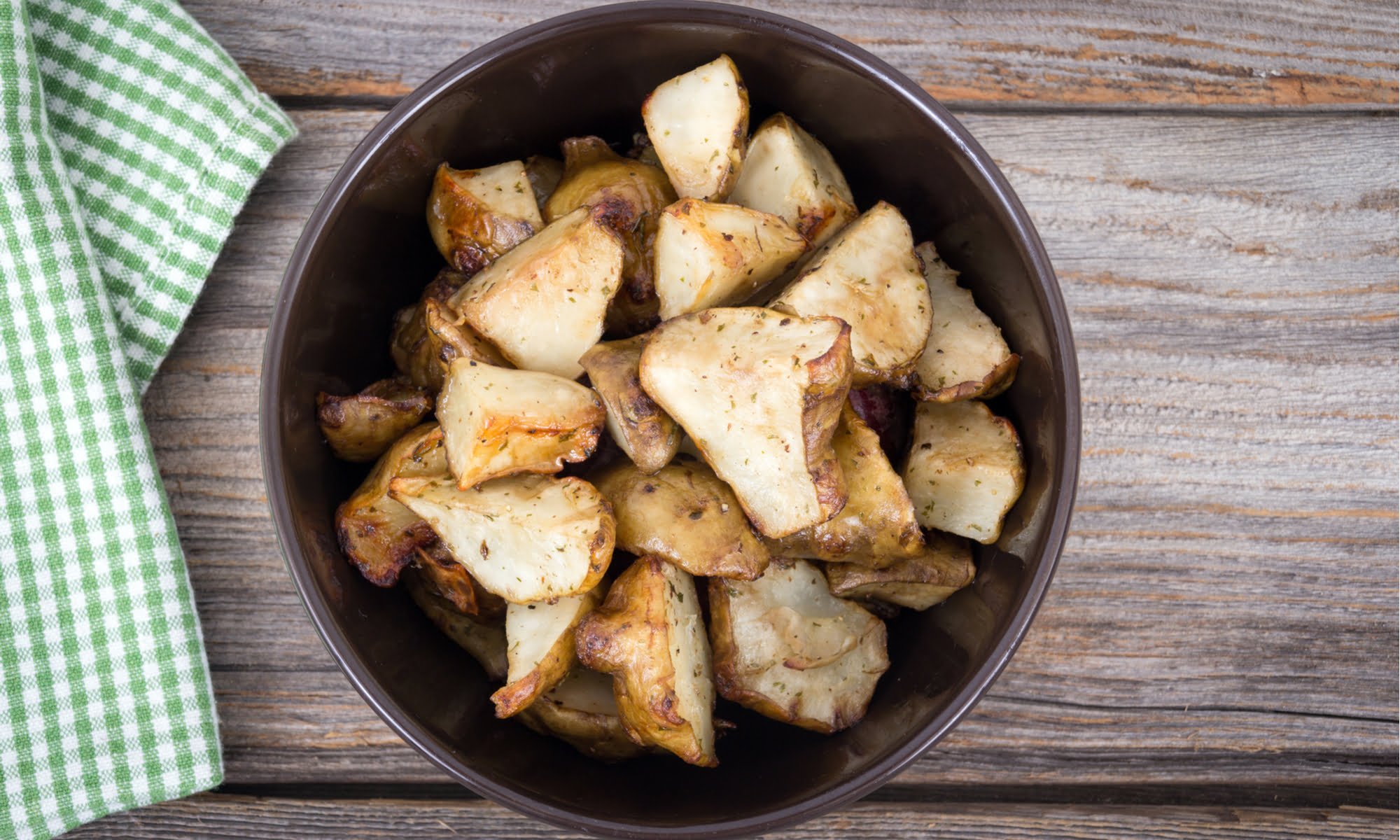 You may be familiar with sunchokes, or Jerusalem artichokes, as they're often called. Interestingly enough though, they don't have origins in Jerusalem and they're not related to artichokes… Where the name "Jerusalem artichoke" comes from is a mystery.
If anything, sunchokes are more similar to potatoes, mostly in the sense that they're root tubers with a similar flavour profile. They're nutty and savoury with a slight artichoke-y taste – like a potato/artichoke cross – and are best used as other tubers are: mashed, in soups, pureed, or roasted.
Why you should eat sunchokes:
The great thing about sunchokes? They're incredibly high in prebiotics, which are what probiotics need to "feed" on. They're actually one of the best sources of prebiotics! The bad thing about sunchokes? They contain inulin, which – when consumed raw – can lead to serious gas and bloating. As such, they've been unofficially titled "fartichokes".
While inulin sensitivity varies from person to person, it's best to avoid eating sunchokes raw altogether. To test whether you are sensitive to sunchokes, try eating a small amount, and slowly introduce it into your diet. Here are 2 tasty cooked sunchoke recipes that are sure to boost your gut health and keep you regular, but hopefully without any fartichoke side effects. 
Note: anyone that suffers from IBS or other gut issues should be wary of sunchokes, as they can be harsh on the digestive system. 
Roasted Sunchokes With Garlic and Thyme
If you're bored of classic roast taters, try roasted sunchokes. They're the perfect trendy accompaniment to your weeknight dinner, potluck, or Sunday roast.
Ingredients:
1½ pounds sunchokes, cut in half

2 tablespoons olive oil

Plenty of coarse salt and cracked pepper, to taste

3 sprigs of fresh thyme, leaves removed

3 to 4 cloves of garlic, peeled and left whole
Instructions:
Preheat oven to 425 degrees F.

Wash and rinse sunchokes. Cut in half.

Add sunchokes and garlic to a baking sheet, toss with olive oil, and then sprinkle with salt, pepper, and thyme. Turn sunchokes cut side down and bake for 30 ish minutes. Be sure to toss a few times! You'll know they're done when they're crispy on the outside, tender on the inside, and a nice golden brown.
Sunchoke Chips
A healthier alternative to potato chips (although nothing can replace Hardbite), sunchoke chips offer a fresh taste and flavour to classically fried chips.
Ingredients:
½ pound large sunchokes

Lots of sea salt (over 1 tablespoon), unless salt doesn't sit well with you

1 tablespoon EVOO

2 teaspoons finely chopped rosemary, ideally fresh but dried works too
Instructions:
Preheat oven to 350.

Slice sunchokes as thin as possible. Not too thin though – we don't want any hand injuries during the process!

Place slices on paper towels in a single layer. Cover with paper towel and let them sit for 15 minutes to soak up excess liquid.

After, toss sunchoke slices in a bowl with extra virgin olive oil and rosemary. Place in a single layer on a parchment paper lined baking sheet, sprinkle lots of S&P, bake, and flip halfway. Bake for 30 minutes, or until golden and crispy.

Enjoy!
What are your favourite sunchoke recipes? We'd love to hear 'em!