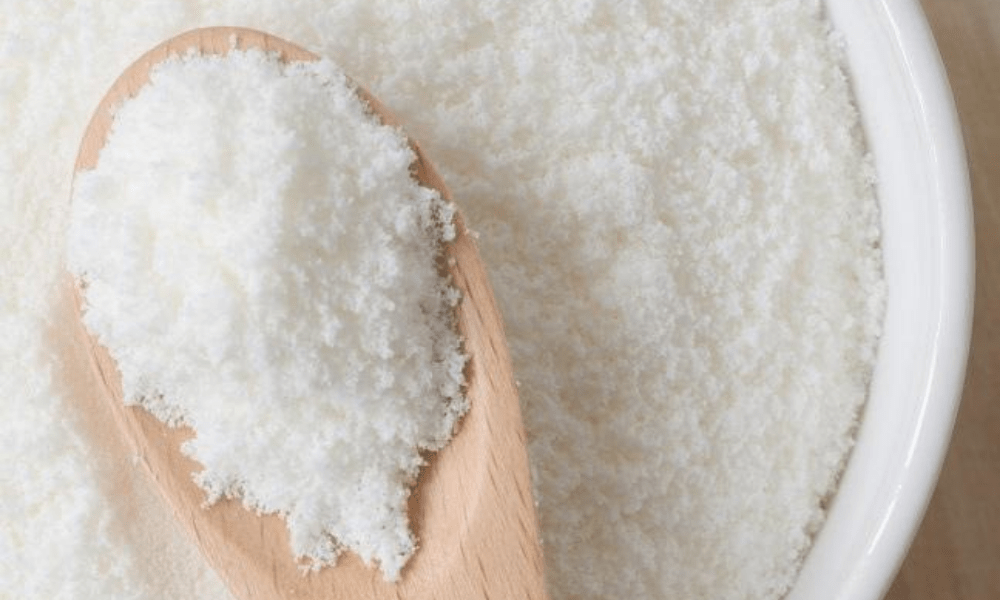 You already know about all the ways collagen can benefit your health, but are you aware of the different types of collagen supplements out there, and which types to use in which foods?
Collagen has become a health-food buzzword, and as a result, has become connected to other terms such as gelatin, collagen peptides, and collagen protein. So what's the difference between all of these terms, and how do you integrate them into your diet?
Collagen Types
Collagen is the main structural protein of connective tissues in animals. It helps to retain elasticity in the skin, rejuvenate hair growth, strengthen bones, and protect your joints from injury.
Gelatin is the form of collagen that we use in our foods, and is most commonly extracted from animals by simmering bones in water for several hours to make bone broth.
Collagen protein is essentially gelatin in powder form. It often comes from beef bones, and should come from grass-fed beef for optimal health results. Collagen protein needs to be placed in warm-hot liquid in order to dissolve, and will then thicken into a gel. It can be used at a 1:1 ratio in any recipe calling for gelatin.
Collagen peptides come from marine bones, and are soluble in both cold and hot liquids. Collagen peptides are perfect for adding to cold recipes like smoothies or raw pudding.
You can also obtain collagen from other foods like red and dark green veggies, berries, soy, white tea, and animal bones, but taking a collagen supplement, like collagen protein or peptides in powder form, can also be a convenient way to make sure you're getting enough.
Need some collagen supplement inspiration? We got you. Here are our 5 favourite foods to add collagen to, including which type to use, and how to use it for best results!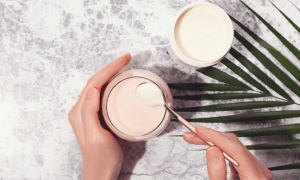 5 Ways to Use Collagen
1. Coffee
Adding collagen to your bulletproof coffee will yield a healthier and frothier beverage to enjoy in the morning. For best results, simply blend 1 cup of freshly brewed coffee, with 2 tbsp grassfed butter, 1 tbsp coconut or MCT oil, 1 tbsp of collagen protein, and 1 tsp of vanilla extract. Blend on high for one minute or until thick and frothy! If you're not into coffee, try adding it to a bulletproof matcha!
2. Smoothies
Smoothies are the perfect vehicle for collagen peptides, as the natural sweetness makes collagen powder virtually unnoticeable. Add 1 tbsp of your collagen powder to your smoothie—we love the Tropical Green Smoothie—blend as usual, and enjoy!
3. Energy Bites
Bring these wholesome, raw Peanut Butter Chocolate Chip Energy Bites to the next level by adding ½ cup of collagen peptides to the recipe. Keep them in the freezer for a quick dessert or snack!
4. Soups
While making your own bone broth is a fantastic way to derive collagen from beef bones, adding a scoop of your collagen protein is a much quicker way of adding collagen to your soup if you don't have any broth on hand. Collagen protein from gelatin  will thicken up any soup recipe. Try adding a few scoops at a time until you've reached your desired consistency. Need soup inspo? This recipe for Healing Turmeric, Lentil, and Farro Soup never disappoints.
5. Pancakes
Pancakes are never not a good idea, and mixing some collagen protein to your batter makes for a match made in heaven. Try adding them to these Spelt Pancakes! Add one tbsp of collagen protein to the melted butter, giving everything a good whisk before adding to the rest of the batter. Then cook as usual, and enjoy!
What's your favourite way to use collagen? Let us know in the comments!