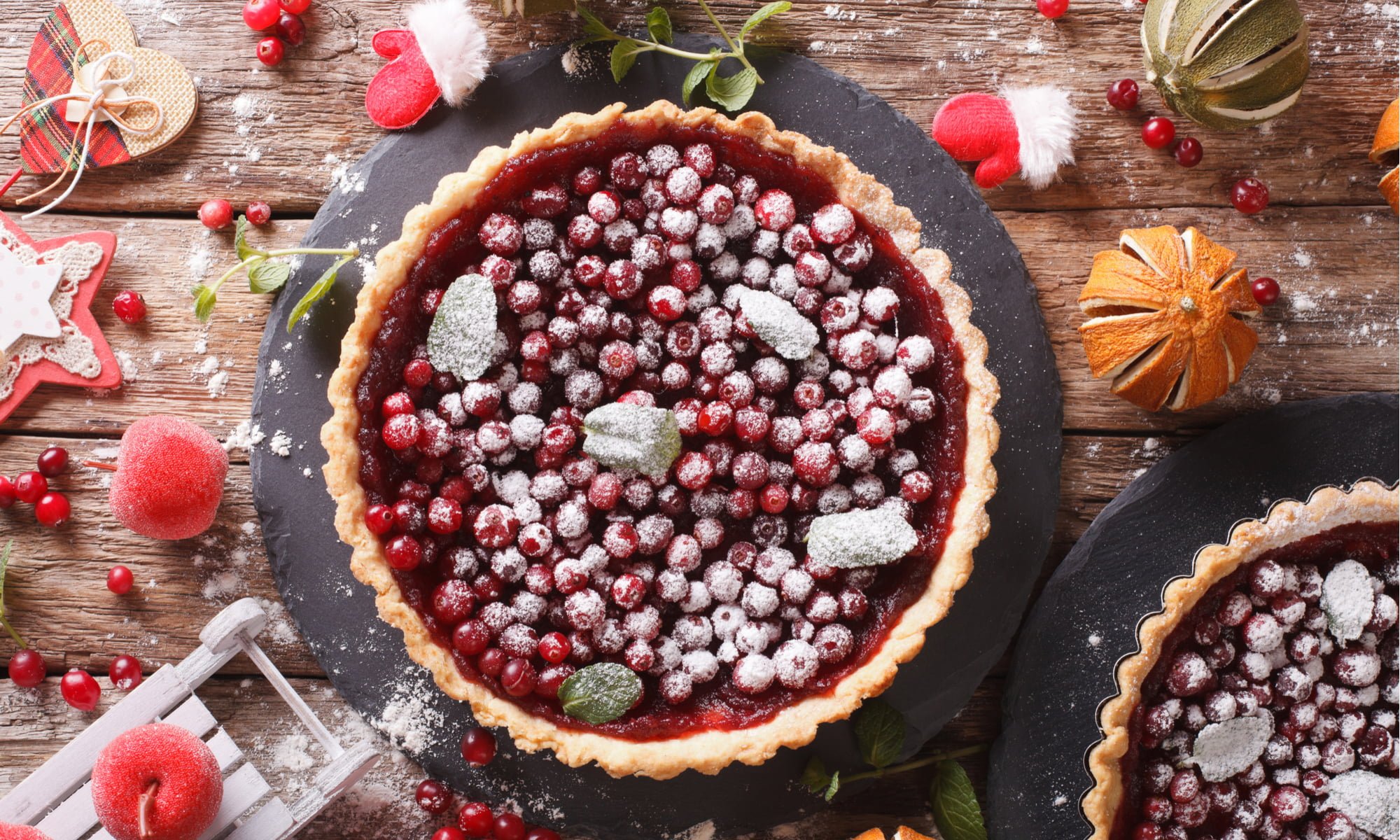 When we think of cranberries, the first thing that comes to mind is likely cranberry sauce (that or the band, either one). Other popular ways to consume this vibrant berry is dried and sweetened or made into an obnoxiously sweet juice (yeah we're looking at you, Ocean Spray). But don't restrict yourself to these methods – there's more than meets the eye! Learn why cranberries are so underrated, and a recipe for our holiday cranberry tart. 
First a bit of background. For over 400 years, North American indigenous peoples have gathered wild cranberries for various uses.  Historically, cranberries were used in a wide variety of ways, such as dyes, tea, and pemmican, an energy-bar type food mixed with cranberries and meat. Some traditional uses for cranberries also included medicinal purposes, like fevers and for temporary stomach ache relief, since they facilitate proper digestion. Nowadays, cranberries are commonly known for their high antioxidant content and role in UTI prevention, since pure cranberry juice can prevent bacteria from adhering to the urinary tract wall. (Note: cranberries cannot stop a UTI once it has already taken hold. They're only helpful for UTI prevention. Do not resort to chugging back cranberry juice if you have a UTI! It likely won't work.) As you can tell, clearly these nutritious berries have served – and still serve – as more than just a turkey topping. 
Here's an easy cranberry tart recipe to make the most of this underrated berry.
Easy Cranberry Tart Recipe
Cranberry Tart
This tart is the perfect holiday dessert. It's fresh, not too sweet, and relatively healthy (okay, not like desserts need to be healthy, but sometimes it's nice to get a few nutrients in after a big meal). Dust with icing sugar and fresh mint for added flavour.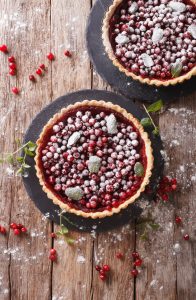 Makes one 9 inch tart. Serves 6, or a very hungry 4.
Filling:
4 cups cranberries (fresh or defrosted)
⅔ cup sugar
⅔ maple syrup
Zest of ½ a lemon (make sure it's organic and washed! Fewer pesticides)
Crust:
1 cup unbleached all-purpose flour (use GF all-purpose flour to make it gluten-free)
¾ cup nut flour (try almond pulp from homemade almond milk!)
¼ cup powdered sugar
½ tsp salt
4 ounces unsalted butter, chilled and cut into small pieces (to veganize it, use chilled vegan butter/coconut oil)
1 – 3 tbsp cold water
Instructions:
In a medium saucepan, combine sugar and maple syrup over medium heat. Stir until sugar dissolves and mixture bubbles. Add cranberries and lemon zest. Stir well. Remove from heat and set aside to cool.

To prepare the dough, mix dry ingredients well (flour, nut flour, powdered sugar and salt). Cut in butter with two knives or a pastry blender. Mix until crumbly.

Add 1 tablespoon of water at a time until the dough just barely comes together in a ball. Turn it onto the counter and shape it into a disc. Wrap in plastic wrap and chill for 30 minutes in the fridge.

Unwrap and place on a lightly floured surface. With a rolling pin, roll into a 9-inch circle. Carefully transfer to a tart pan. Press dough into the pan and form a lip around the edge. Chill the prepped pan for 10-15 minutes. Meanwhile, preheat oven to 375 F.

When ready to bake your prized dessert, remove the pan from the fridge and prick the bottom with a fork. This ensures your crust won't get air bubbles. Bake it without the mix for about 10 minutes so that it gets a bit crispy.

Add cranberry mix. Spread out evenly, be sure to avoid getting sauce on the lip.

Bake for another 30 minutes, or until crust is golden and mixture bubbles.

Let it cool a bit, and serve when it's still warm but not hot. Serve with ice cream, whipped cream, or

coconut whipped cream

(our favourite). Dust with icing sugar and mint for extra holiday cheer. 
What are your favourite cranberry recipes? We'd love to hear 'em!