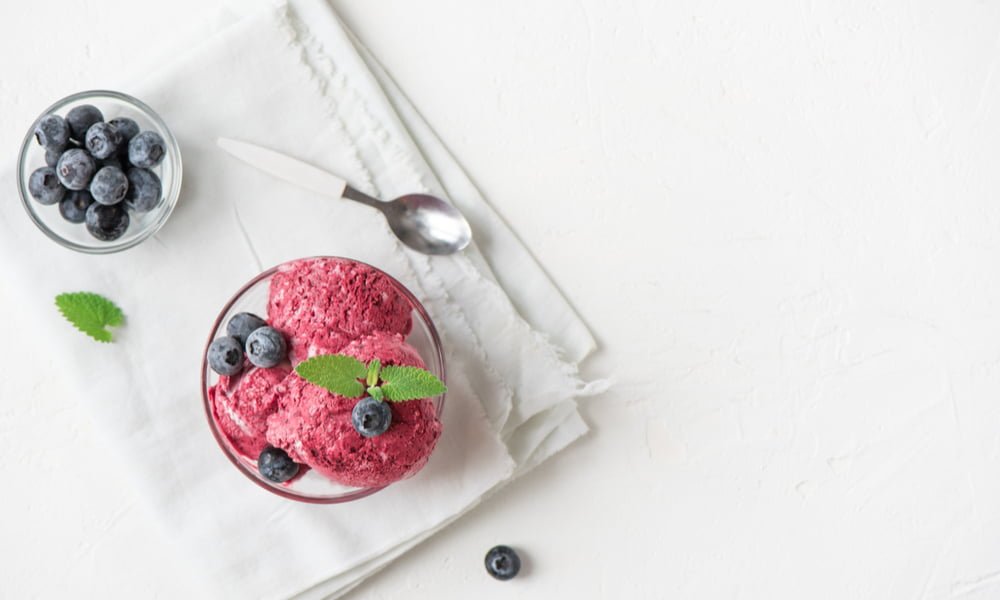 When sunny weather rolls around, I immediately crave ice cream. Lately, I've been craving a different type of ice cream though: nice cream.
Nice cream, or vegan ice cream, is typically made by blending frozen bananas until thick and creamy. It often requires few ingredients, is incredibly simple, and takes no time at all! Sounds pretty darn nice to me.
These nice cream recipes are:
They are also all dairy-free, gluten-free, and under 5 ingredients! From blueberry to chocolate to coffee, these will satisfy all your ice cream cravings. Enjoy them as a snack, dessert, or even for breakfast (if you're wild like that).
3 Easy Nice Cream Recipes
Note: All recipes serve 2 and are ready in 5 minutes.
Blueberry Basil
Ingredients:
3 frozen bananas (cut into slices before freezing)

1.5 cups frozen blueberries

Handful of fresh basil

Optional

: a tsp of sweetener of choice if your blueberries are a bit underripe. We like maple syrup or honey.

Note: if basil isn't your thing, blueberry alone is heavenly as is. Simply omit the basil and add 1/2 tsp of vanilla. Top with fresh mint.
Chocolate Peanut Butter
Ingredients:
3 frozen bananas (cut into slices before freezing)

2 tbsp natural peanut butter

2 tbsp cocoa

1/2 tsp vanilla

Pinch of sea salt
Coffee 
Ingredients:
3 frozen bananas (cut into slices before freezing)

½ cup strong coffee (chilled)

½ tsp vanilla

¼ tsp cinnamon

Pinch of sea salt

Optional

: ¼ cup coconut cream

Optional

: handful chocolate chips (mix in after blending)
Instructions for all:
Blend well. If you have a Vitamix, use a tamper to ensure proper blending. If you don't have a Vitamix, we recommend using a food processor. Either way, a power blender will work, but if it's too thick add 1 tbsp of almond or coconut milk. This makes it creamier and easier to blend. Be careful not to add too much though, or else it becomes more of a smoothie. 

Serve in your favourite bowl or cone. Feel free to top with chocolate chips, berries, vegan cookie dough, or even chopped up healthy chocolate peanut butter cups. Enjoy!
Find all ingredients at your nearest Blush Lane!