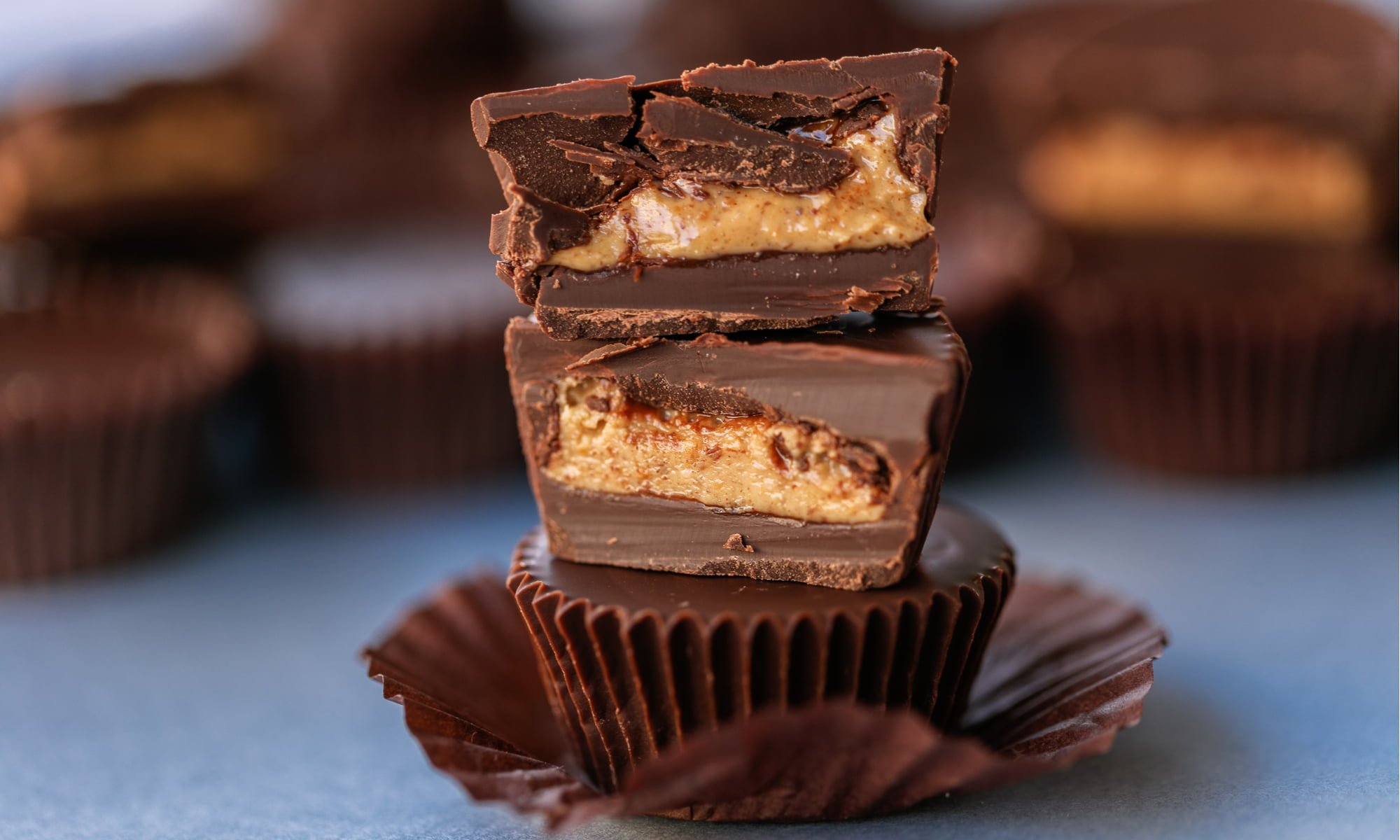 Healthy chocolate peanut butter cups might seem like an oxymoron, but I'm here to tell you that they do exist! Although even healthy sweets are best enjoyed in moderation, these cups are dairy-free, refined-sugar free, and gluten-free—therefore significantly healthier than their commercial counterparts. With no preservatives, no high-fructose corn syrup, and no unhealthy oils, they also have the same great flavour without unnecessary ingredients. Wins all around.
These healthy Chocolate Peanut Butter Cups are:
These are also incredibly easy and take no time at all. Don't be fooled by their elaborate exterior. Now, let's learn how to make them.
Healthy Chocolate Peanut Butter Cups:
Pro-tip: make these with a mini muffin tin! The big muffin tins are just too big. And with the mini ones, you can have so many more without feeling full.
Servings: 9-12
Prep time: 10 minutes
Cook time: 25 minutes
Total time: 35 minutes
Ingredients:
Chocolate coating:
⅓ cup unsweetened cocoa powder

⅓ cup coconut oil

⅓ cup maple syrup (or less – to taste)

¼ teaspoon vanilla extract
Peanut butter filling:
¾ cup all natural peanut butter (use crunchy for more texture)

¼ cup maple syrup

¼ teaspoon sea salt
*Note: if you don't have/want to use cocoa powder, another option is to melt semi-sweet chocolate chips. If doing so, for the chocolate coating, use 2 tbsp of coconut oil, 10 oz of chocolate chips, ¼ teaspoon of vanilla, and ¼ teaspoon of sea salt. Omit the maple syrup.
Instructions:
Line mini muffin tin with paper liners. If you have a silicone mini muffin tin, even better. No paper required.

In a small saucepan, melt the coconut oil, cocoa powder, maple syrup, and vanilla together on low-medium heat. While heating, whisk together well.

Once melted and mixed together, add a small dollop into each mini muffin cup. Ensure the bottom of each cup is covered. This should be approximately ¼ inch.

Once each cup is covered, place into the freezer for approximately 10-15 minutes until cooled.

Now make the peanut butter filling. In a small bowl, mix together the peanut butter, maple syrup, and sea salt. Scoop ¾ teaspoon of the peanut butter mix on top and repeat for each cup.

Now cover each cup with the remaining chocolate mix. If you're feeling fancy or want to give these as a gift, top with sprinkles or sea salt.

Now place in the fridge or freezer to chill for approximately 15-20 minutes.

All done! Enjoy your chocolate peanut buttery goodness for all it's worth. Store extras in the freezer or fridge.  
Find all these ingredients at your nearest Blush Lane store!