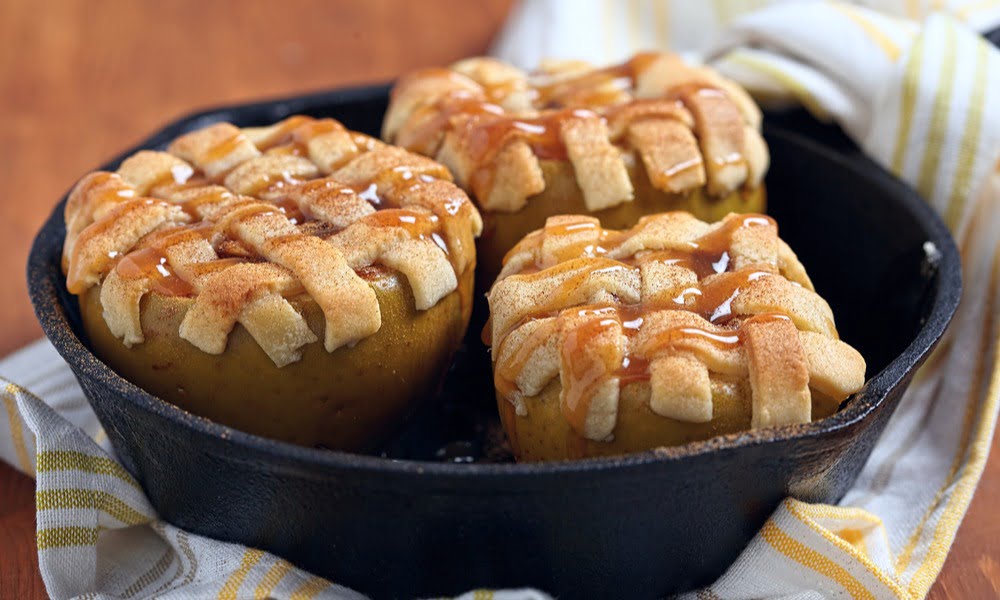 These. Are. Really. Good.
Pardon my poor grammar, but these tasty treats were so delicious that while remembering their existence I can only think in one word sentences. Okay, focus..
Here's what happened: While scanning the internet for adventurous new baking recipes to try out, I came along these puppies on Sally's Baking Addiction. These are Granny Smith apples with their cores hollowed out, filled with diced apples that have been cooked in cinnamon sugar, topped with a doughy pie crust, then stuffed in the oven. A truly magical dessert. Once done baking, I drizzled mine with caramel sauce by Caramoomel in Kelowna, BC, and added a generous scoop of vanilla ice-cream. It was certainly a 'treat yo self' sort of evening.
These apples are a treat, but if you omit the caramel sauce and ice-cream (though I would never dissuade you from adding them), you are left with baked apples, sugar, pie crust, and a few other baking ingredients. In the grand scheme, it is a relatively wholesome treat to serve as a special dessert when you want to wow guests, or put some huge smiles on your kid's faces. So try them out! Throw on some tunes while you're making them, or bring the kids in and have them help (weaving the pie crust together may be easier for smaller fingers), or both! I am certain you will enjoy these as much as I did.
BAKED APPLE APPLE PIES
Ingredients:
1/2 recipe homemade pie crust
1 teaspoon cornstarch
1 Tablespoon (15ml) warm water
5 large Gala apples
1 teaspoon cinnamon
1/2 cup (100g) granulated sugar
1 teaspoon vanilla extract
1 large egg
1 teaspoon milk
caramel sauce, for drizzling (optional)
Directions:
1. Prepare your pie crust, allowing it to chill for at least two hours. To save time, I used a pre-made pie crust (which was delicious). However, it was definitely a little harder to work with than I would imagine uncooked pie crust dough would be. So if you've got time, opt for homemade on the crust. It'll make things easier when you're trying to weave the crust strips over each other. Also, whatever method you use for pie dough, make sure you keep it in the fridge while you prepare your apples. You want your dough to constantly be COLD.
2. Make your apple filling! In a small bowl, combine the cornstarch and warm water together until dissolved, then set aside. Using a paring knife or peeler, peel and dice one of the apples. Transfer the apples to a medium saucepan, then cook over medium heat with the cornstarch/water mixture, cinnamon, and sugar. After 5 minutes, switch to low heat and simmer for another 5 minutes. At the 5 minute mark, remove your pot from heat, stir in your vanilla, and allow to cool off for 20 minutes.
3. Now the fun part: putting it all together. To avoid having your pie dough stick to your work surface, sprinkle some flour before rolling out your pie dough or crust. Turn the dough about a quarter turn after every few rolls until you have a circle 10-11 inches in diameter. Cut this this into quarters, then cut each quarter into ¼-inch wide strips. Place cut strips into the fridge to chill while you core out your apples.
4. Preheat the oven to 375F. Bring out your 4 remaining apples, and slice off the tops. Use a spoon (a serrated grapefruit spoon works great if you've got one), or a knife to cut around the core of the apples and remove it. You want to hollow out the inside so that you can pour in your sweet apple filling.
5. Spoon the apple filling into your hollowed out apples. Lay 3-4 strips of the pie dough on top of the apple. Then (this is where it gets tricky), one at a time, alternate weaving it over and under the dough strips already in place. Keep repeating until the top of the apple has been covered in this 'lattice style' crust. If you want, trim the excess pie crust around the edges. Though I don't think there's anything wrong with a little extra crust. Repeat this step with all your apples.
6. Place your finished apples into a baking dish – it doesn't really matter what size. In a small bowl, whisk the egg and milk together to create the egg wash. Lightly brush the tops of your apples with this mixture. Finish with a light sprinkle of cinnamon over each apples!
7. Bake for 25-20 minutes or until the crust is browned. Serve with a drizzle of caramel sauce, and a scoop of vanilla ice cream! These apples are best enjoyed immediately.
Although my finished product didn't look quite as flawlessly as Sally's did in her blog, I can say with full confidence that they were just as delicious. Hats off to anyone who can perfectly weave their crust together! Give it a try, and let us know how it goes. From one amateur food writer to the next, happy baking!