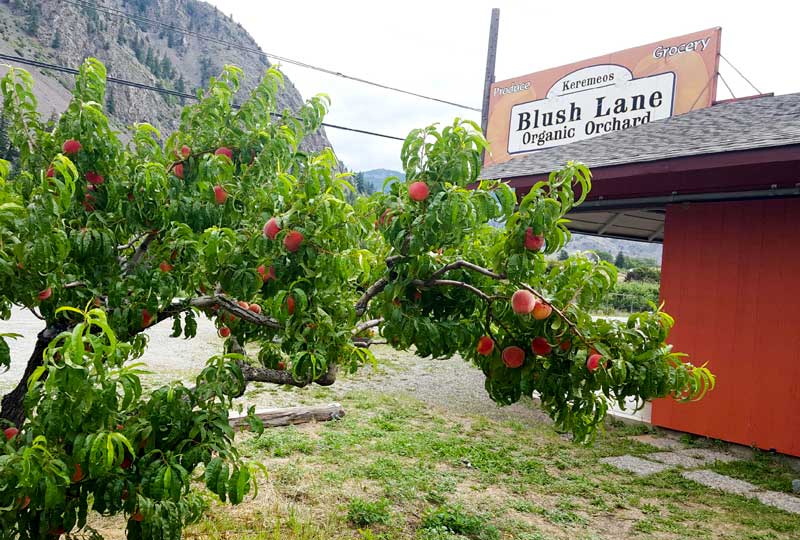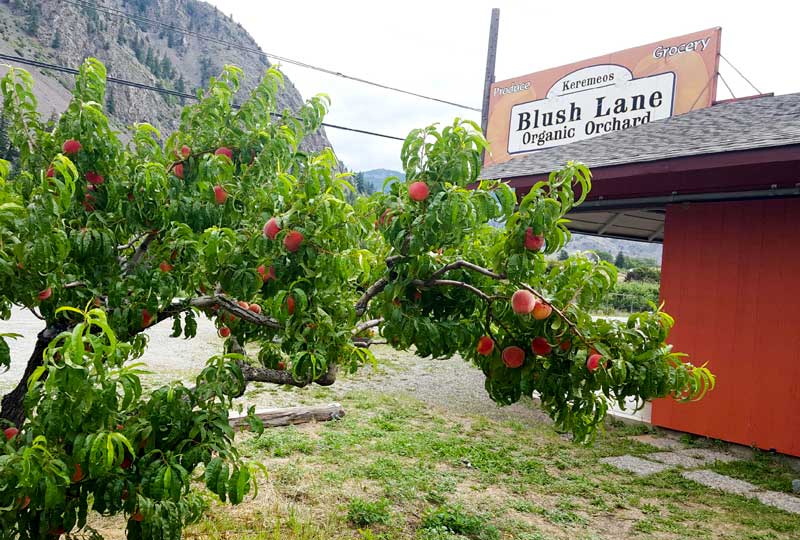 Summer fruit season is here! This week we are harvesting peaches, plums and apricots at the Blush Lane Orchard.
Harvest dates are even earlier than expected. Due to an early, hot Spring, we are currently harvesting fruit around three weeks earlier than normal seasons. This is even earlier than last year, where harvests were around two weeks early.
This week we are sending a variety of fruit, from peaches to plums. Our Early Red Haven Peaches may be the first  peaches of the season, but they are both sweet and juicy because we let them ripen on the trees.
Blush Lane's Sundrop Apricots are tree-ripened too, and they will continue to be delivered this week. We are also shipping Earliblue Prune Plums, great for snacks and baking.
More organic BC cherries are on their way. This week they are Skeena Cherries, which are dark red to almost black, large, very firm and sweet.
The next fruit to be ready to harvest will be summer apples (like Discovery and Sunrise), nectarines and freestone peaches. We will have more updates when the harvests begin.
The weather in the Similkameen Valley has recently become unusually cool and wet, so the harvest dates for our later summer fruit may not be pushed ahead as much as the early summer produce. Continue to keep track of our orchard's harvests here on the Blush Lane blog, or stop by our stores at the Calgary Farmers' Market to get the latest fresh produce. All summer, our stores will be stocked with the latest and freshest fruit from our orchard.
Updated harvest dates at Blush Lane Organic Orchard
TYPE/NAME
VARIETY
CHERRIES
Raineer, Queen Anne, Vans, Sylvia, Sams, Stella, Lapins, Sweetheart
June 15th – July 7th
APRICOTS
Tom Cots, Sundrops, Rivals, Goldrich, Tiltons
June 23rd – July 23rd
PLUMS

Crimean, June Plums, Early Blue Prune Plums, Santa Rosa, Shiro, Red Hearts, Elephant Hearts, Black Friars,
Duarte, Damson, Italian Prune Plums

July 7th – September 10th
EARLY PEACHES
Early Peaches/Clingstone: Flaming Fury, Rising Star, Early Red Haven
July 5th – July 31st
SUMMER APPLES
Sunrise, Discovery, Vista Bella, Akane
July 25th – August 15th
PEACHES
Freestone: Red Haven, Harbrite, Glo Haven, Crest Haven, Flamecrest, O'Henry Organic Canning Peaches
August 1st – September 15th
NECTARINES
July 23rd – September
EARLY AUTUMN APPLES
Gala, Gale Gala, McIntosh, Honeycrisp, Shamrock, Spartans
September
LATE AUTUMN APPLES
Ambrosia, Braeburn, Sweet Orin, Granny Smith, Fuji, Pink Lady
September 25th – October 30th
MELONS
Galia, Honeydew, Musk, Canteloupe, Watermelon
September