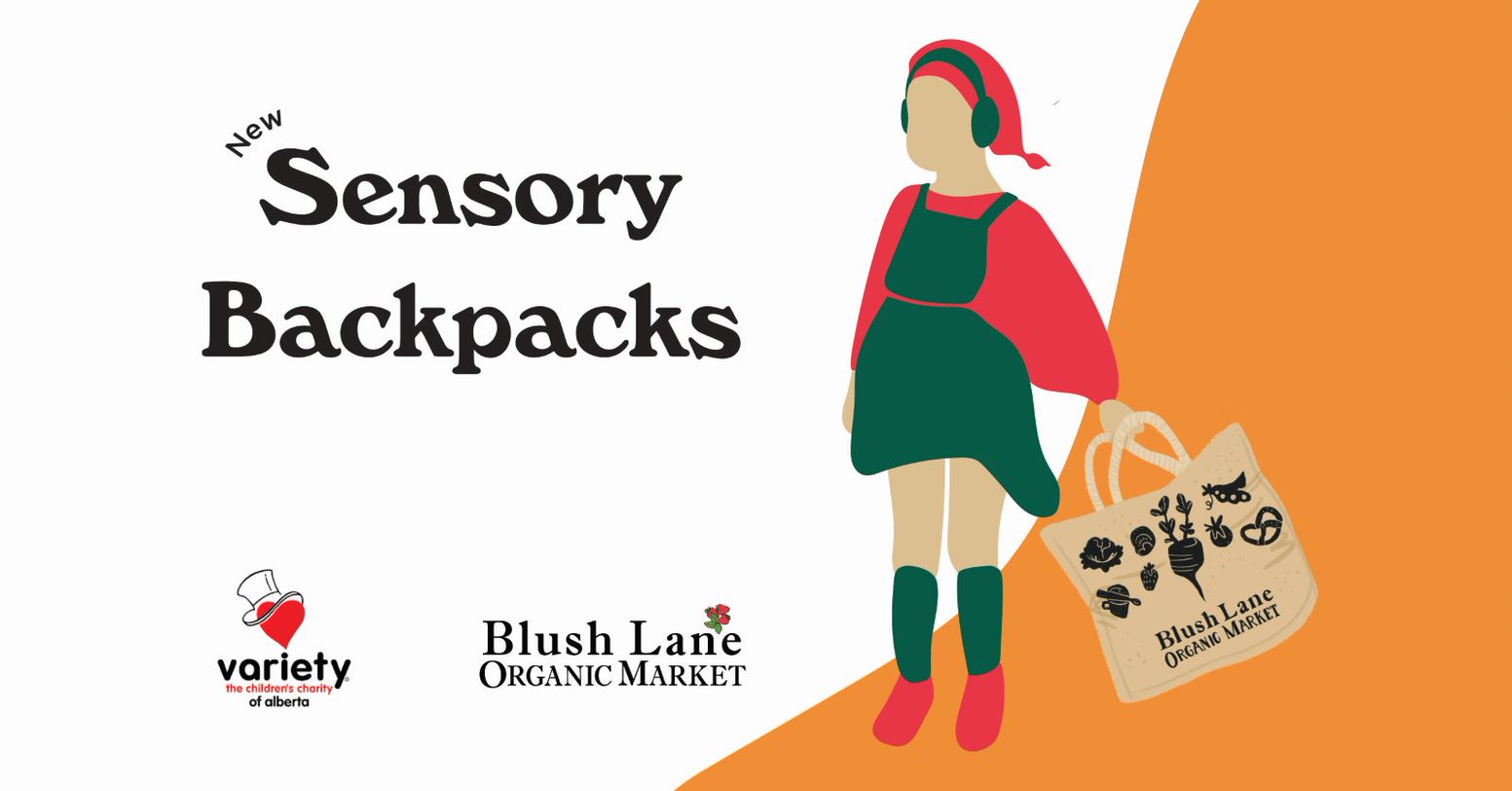 Blush Lane has partnered with Variety – Children's Charity of Alberta on their sensory backpack program to support children living with sensory processing disabilities.
Who is Variety Alberta?
Variety – the Children's Charity of Alberta is a charity with a mission to enable all children with specialized needs to be an active part of their community through various community initiatives, partnerships, and educational opportunities.
What is the Sensory Backpack Program?
The Sensory Backpack pilot program is in partnership with Variety Alberta. We will have 2 sensory friendly backpacks available for visitors to sign out at our Blush Lane Marda Loop location.
Visitors with children who may have sensory processing disabilities (eg. autism) can pick up a backpack filled with 8-10 sensory tools that they can use while shopping at Blush Lane. When visiting there is often a lot of stimuli competing for ones attention – visual, auditory, tactile, etc., many of us don't think anything of this. Children with sensory processing disabilities may struggle to filter out the unwanted stimulation – which can become overwhelming.
These backpacks will give them tools that will allow them to better self-regulate and control the stress and overwhelming feelings they may otherwise experience. Because this is a pilot program with a limited number of backpacks available, we will collect some
information about use and do a needs assessment to see if there is a demand to increase the program to additional Blush Lane stores. 
Why did we want to partner with Variety? 
This program supports key elements to supporting our community, two of which are:
Everyone feels welcome: these backpacks will allow shoppers who may otherwise find a visit to our store an overwhelming experience access to tools that will allow them shop with their families and be part of their community.

Make every visit easy: the aim of these backpacks is to provide visitors that may have previously




found visits to Blush Lane a bit challenging due to the over-stimulus in some space an easy way




to manage that. Backpacks are already curated, sanitized, and ready to go – you don't need to




plan extra for your visit to be a good one!
When will the backpacks be available?
November 18, 2020 this program will launch at our Marda Loop location. If the pilot program is successful we will look to expand the program at other locations.
Where can shoppers pick up the backpacks?
These will be available at our cash registers. They are free of charge for a family to use while they are shopping and are supposed to be returned at the end of your visit. Shoppers will have to sign out backpacks at our cashier tills and return all materials at the end of their visit so we can sanitize the backpack contents and ensure they are ready for the next person who needs it!