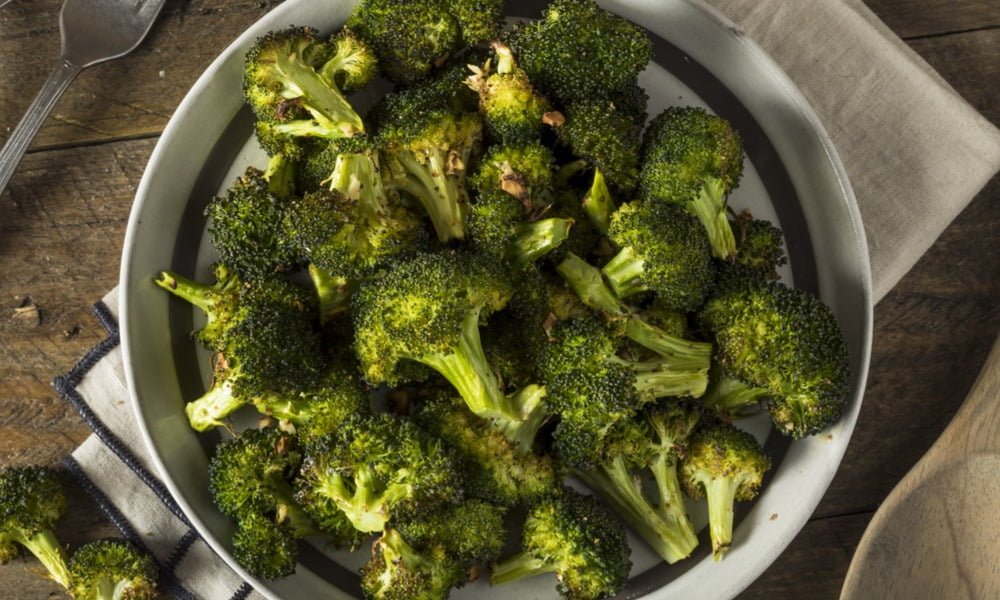 Leaves are falling, the temperature is dropping and memories of long summer days are growing ever distant. But don't despair, this change of season means that you can now turn on your oven without melting! While eating your weight in fresh baked cookies is always an option, sometimes it's good to mix in a few veggies, and there's no better way to cook veggies than roasting them.
I'm already a pretty big fan of vegetables, but there's something about roasting that makes it easy to scarf down an entire head of broccoli in 5 minutes. It adds a touch of crispiness and brings out some natural sweetness with nutty undertones. If you think there's a vegetable out there that you don't like (*cough* radishes *cough*) try roasting it – the flavour can change drastically.
You can customize roasted vegetables endlessly, but here are 7 of our favourite recipes to get you started:   
Spiced cauliflower is drizzled with a creamy, bright tahini dressing, and sprinkled with toasted pine nuts. It makes a great side dish for entertaining – the favours are well balanced and it looks impressive, but it' actually easy to make!
Roasted tomatoes seem to go well with just about anything. Blend them up for a delicious homemade tomato soup, use them as a pasta sauce, or add them as a garnish on any dish.
3. Lemon + Garlic Roasted Potatoes
Tangy, savoury and delicious! This is the perfect side dish or it makes a great addition to Sunday brunch.
~1.5 lbs of potatoes (a waxy potato – like yellow or white)

1 lemon, juice + zest

2-4 garlic cloves, minced

2 tbsp oil (olive, avocado, etc.)

salt and pepper, to taste
Cut your potatoes into bite-sized pieces.

Combine lemon juice, zest, oil, and garlic in a baking dish, cover and set in the fridge for at least an hour or overnight.

Preheat oven to 415F.

Remove cover from baking dish, sprinkle with salt and pepper, then bake for 30-40 minutes, mixing at the halfway mark.

If you want to make them extra crispy, broil at the end of baking. Keep an eye on them to make sure they don't burn.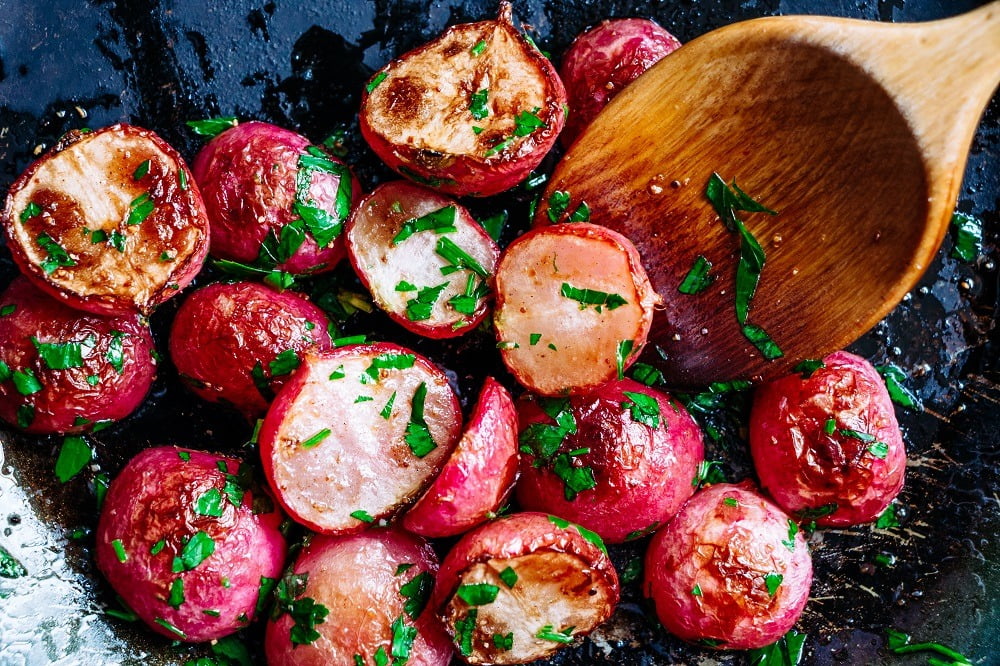 Some people are turned off by the peppery taste of raw radishes. If you're not a fan of eating them raw (and even if you are), you NEED to try roasting them. Roasting really mellows out the flavours and enhances the natural sugars.
There's nothing worse than an overcooked, soggy, greyish-looking tiny tree with a stinky cabbage smell that tastes like pure injustice. It doesn't have to be like that. What if I told you that you could bring out the natural crisp, sweet, nutty flavour of this cruciferous powerhouse with one simple change? Roast it!
6. Roasted Maple Balsamic Carrots and Beets
If you like sweet vegetables, this one's for you!
1 lb carrots

1 lb beets

¼ cup olive oil

¼ cup balsamic vinegar

3-4 tbsp maple syrup (depending on desired sweetness)

3 cloves garlic, minced
Preheat oven to 400F.

Cut the carrots and beets into bite-sized pieces and toss in a bowl with oil, vinegar, maple syrup, and garlic. (optional: let them marinate)

Spread the carrots and beets on a baking sheet with parchment paper or a silicone mat. Sprinkle with salt and pepper. 

Roast for 15 minutes, toss and then roast for another 15-20 minutes.

If you want to brown them more, turn your oven to broil at the end. But be sure to keep a close eye.
Roasted garlic might be considered more of a condiment, but should definitely not be overlooked. Unlike spicy, potent raw garlic, roasted garlic is mellow, buttery, and earthy. I could eat it straight out of the bulb, but it makes a great addition to pasta, pizza, and crostini. Roast a bulb and keep it in the fridge to season all your meals.