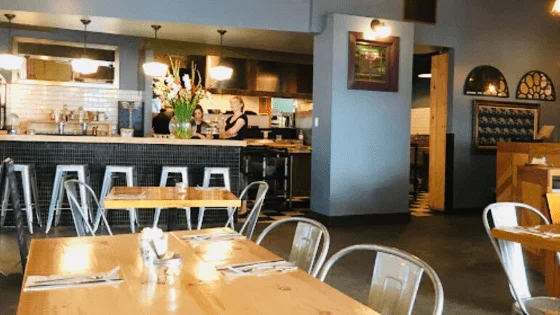 As the neighbour tenant to Blush Lane Organic Market in the Roots on Whyte building in Edmonton, Under the High Wheel Noshery & Catering is a beautiful space with a clear mission: to create amazing food from scratch that is memorable and makes people want to come back. If you haven't yet tried their made-with-love culinary creations, you are in for a treat. 
Under the High Wheel, named for its European influence and the owner's love of cycling, is well known for the mouth-wateringly delicious brunch options, including the most insta-worthy menu item – the Sweet Belgian Waffle – which is plated as a work of art. The homemade, from-scratch, daily soup rotation also drives repeat business, offering creative twists on comforting classics.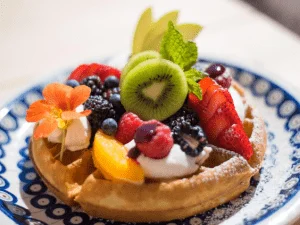 Owner Jennifer Ogle has been working in restaurants her whole life and discovered her love of cooking at the tender age of 7. She trained as a chef in France and is passionate about providing both nourishing and new food experiences to her community, expertly catering to special diets, with delicious options like the popular (gluten-free) buckwheat crepe. Jennifer and her business partner, Ada, love to introduce people to healthy food that tastes incredible, and are proud to feature seasonal and sustainable ingredients from several local farms, businesses and producers, including Bonjour Bakery, Four Whistle Farms, Reclaim Organics, Sunworks Farm, Morinville Greenhouses, and of course, Blush Lane! 
In the time of COVID-19 drastically altering the way restaurants and coffee shops operate, Jennifer and her team (including Bob Brass of the adjoining café – Overflow), have found new levels of creativity and resilience to keep serving their community, offering online and phone ordering for pick-up or curbside delivery, and supplying the Blush Lane deli with a variety of grab-and-go soups, salads and sandwiches. They also built an adorable take-out window outside Overflow to allow customers to safely order coffee, pastries, and the in-house specialty – Stuffed Scones (also available at Blush Lane). 
What has been the most challenging aspect of operating during the pandemic? 
Without a doubt, laying off our staff was heart-breaking. The level of uncertainty of how we're going to re-open and what it's going to look like makes it hard to plan, because there's no definite end point. We can't possibly be prepared for all the scenarios, because there's too many variables. 
What do you value most about the partnership between Under the High Wheel and Blush Lane? 
The opportunity to add some of our menu items to the grab-and-go deli section at Blush Lane has been instrumental in keeping us busy and relevant during this time! The store is vibrant, with constant flow as an essential service, and it's amazing that customers can conveniently pick-up our food 7 days a week. Some of the top sellers include the Buffalo Cauliflower Wrap, the Greek Bowl, the Miso Tahini Bowl, and we are excited about offering our new Vegan Tuna Sandwich! Blush Lane also carries a selection of our from-scratch, popular soups like African Peanut Yam, Mediterranean Lentil, and Curried Vegetable. 
It was heart-warming to be approached by store manager, Adam Steinson, about this opportunity during such a difficult time, and we love all the staff at Blush Lane, who are working so hard as essential service providers. We are so grateful to be a part of this community of businesses that care about sustainability and engaging our community.  
What are you looking forward to? 
We are excited to list some menu items on Blush Lane's online grocery partner site, SPUD.ca in the near future. This will enable customers to have our food delivered to their door throughout Edmonton and surrounding areas, which we are not otherwise able to feasibly provide at this time. We are happy that people who may have never been to our restaurant, or those who love it but can't come in to dine, can now experience our food through Blush Lane and SPUD.ca. We look forward to opening the restaurant and hosting guests again, though things will look a lot different with the current restrictions.  
Thank you for your support!