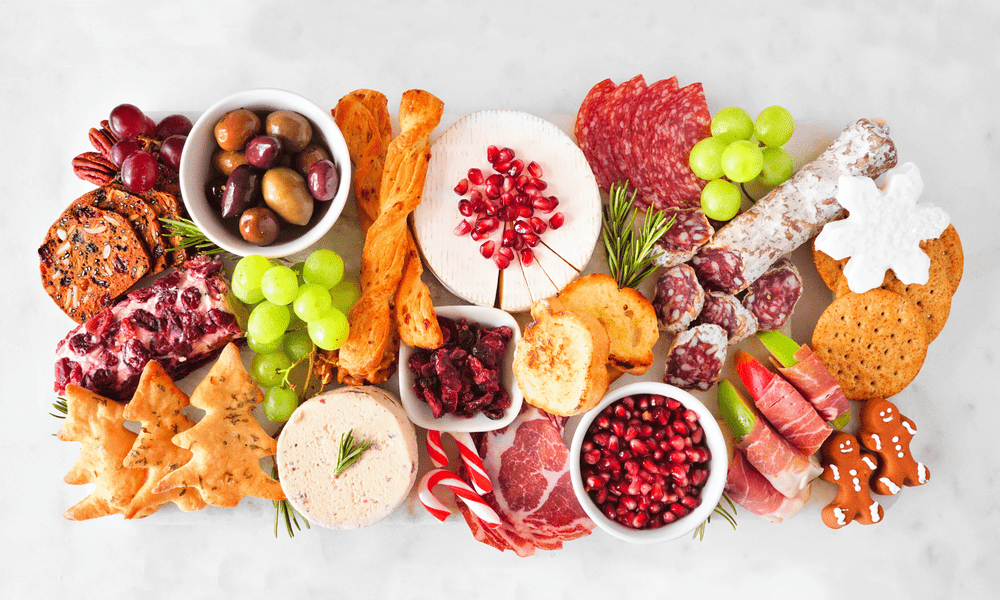 Tapas, crostinis, cheese balls, and even crab cakes, we've seen it all. Finger foods dominate holiday parties. Finger foods are the best ways to get your guests mingling and kickstart the festivities. But you spent hours working on putting your best dishes together. You probably want your food to make an impression. You want people to talk about them after the party's ended. You want them to ask you for the recipe.
Having mind-blowing food is a steadfast way to ensure that you threw the best holiday party and have people talking about it. So what is the dish that you really need? A charcuterie board. That's pronounced "shar-koot-uh-ree". It's a fun word to say, and it's an even more fun platter to curate and eat. It is the epitome of flavour explosions, unexpected pairings, and mysterious cured meats.
But to really make the best charcuterie board, there are things to consider.
Curation is key. Find a mixture of cured or sliced meats and cheeses from bold to mild flavours, firm to soft textures.
1. Meats.
They don't necessarily have to be cured meats since cured meats are extremely rich. If you think some cured meats might not appeal to some of your guests, mix in some sliced roasts or smoked turkey hams. And definitely include your favourite salamis. Salamis come in such a wide range of flavours and infusions that even a platter of salamis would be irresistible. Lastly, don't forget the pates. You not only add more flavours to your charcuterie board, but also more texture by including a spreadable topping.
2. Cheeses.
Once again, the cheeses are the co-stars of this presentation. Pick a strong mixture, with aged gouda, firm gruyere, rich triple cream, crumbly goat cheese, and even some unique blue cheese. The more variety and higher possibilities of combinations, the more people will keep returning to the charcuterie board.
3. Garnishes
Never forget the garnishes. You'll need some sweetness and sourness to cut the rich mixtures of cured meats and cheeses. Prepare some olives, pickles, pepperoncinis, nuts, lemon, salad, and even in-season local fruits to go with your charcuterie board. This only adds more textures and flavours—the main point of having this platter in the first place.
Find your favourite olives & antipasti.
4. Bread and Crackers
Here comes the carbs. There's no doubt that your guests will love the meats and cheeses on their own, but it's always safe to prepare some sliced baguettes and crackers. And remember to include some gluten-free options for the gluten-intolerants. You want all of your guests to be well-fed and content!
5. Condiments
Olive oil, black pepper, jams, Dijon mustard, or hummus, whatever it is, leave it somewhere near the charcuterie board. It's all about customization with this platter, and the ideas are endless when it comes to condiments. And I can definitely tell you that people love customizing their own platters. It's basically a buffet.
6. Wine
Wine is such an acquired taste and so specific to each individual in regards to preferences. Have a few options available. A sweeter Riesling, a crisp and dry sauvignon blanc, a buttery unoaked chardonnay, and a full-bodied plummy merlot. Have a selection that can optimize the flavours of your selected meats and cheeses.
Charcuterie boards are the way to go when it comes to holiday parties–or just parties in general. What are some of your ways to prepare this board? Share with us your favourite meats, cheeses, and pairings!