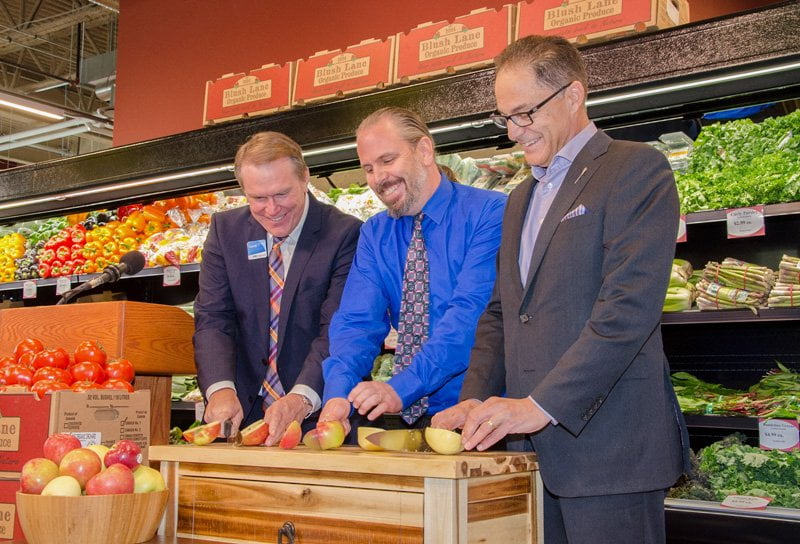 Apples are stacked and the shelves are stocked. It is with great excitement that we announce that Blush Lane Bridgeland is open.
The Bridgeland market is the third Blush Lane location in Calgary, along with Aspen Woods and the Calgary Farmers' Market.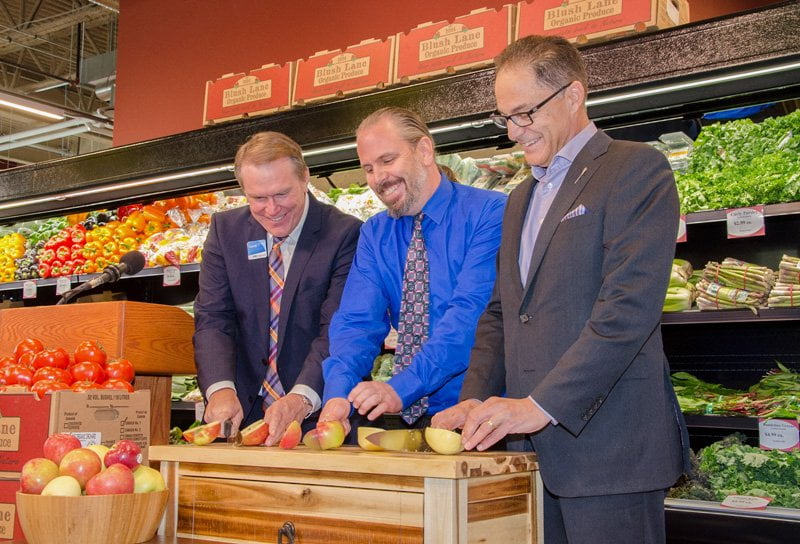 As the biggest Blush Lane market yet, the new store extends Blush Lane's commitment to supporting organic and natural products, including farm-direct produce from Alberta and British Columbia growers. Blush Lane Bridgeland has an on-site deli that prepares fresh and healthy snacks, meals and drinks.
At the soft opening on Sept. 23, representatives from the Alberta government and funding partners joined Blush Lane staff, friends and family to celebrate. Alberta Finance Minister Joe Ceci and ATB Financial president Dave Mowat attended the opening to mark the big step for the Calgary-based small business.
"It's a big undertaking to do this, and we can't do it without our partners," said Rob Horricks, owner and CEO of Blush Lane.
"This is the perfect time to be opening new stores and to be opening new businesses. As some of our larger potential competitors pack up and leave Alberta, we're going to take these small centres, put them into communities, help build communities and feed the people."
"You exemplify the Alberta can-do attitude," remarked Ceci about Horricks. "You have seen the opportunity in the middle of a challenge, and you are optimistic. Your passion for sustainability guides your business approach and you have created jobs for Albertans."
As a funding partner, ATB Financial recognized Blush Lane's impact on the local community.
"Most of the time when we see some of the most successful businesses here in Alberta, they have very local roots and they have people behind them that are dynamic and have that drive to succeed," said Mowat.
Blush Lane Bridgeland is located at 617 Meredith Road, in between 4 Street NE and Edmonton Trail. There is free 45-minute parking available in the heated parkade. And come join us in celebrating the store's grand opening on Oct. 15! Learn more here about Blush Lane Bridgeland and how to get to the store.
Blush Lane Organic Market a fresh face in Bridgeland
From the Calgary Herald (Oct. 13, 2016)
Sellers of produce talk about the importance of freshness. At Blush Lane Organic Market, you can smell it when walking into the new store on the north side of the Meredith Block at the bottom of Edmonton Trail N.E.
The apples and much of the fruits are grown in the company's orchards west of Osoyoos, B.C.
Owners Rob and Zenya Horricks are excited about the number of customers who visited the store over the past couple of weeks since their soft opening, when the shelving and displays were still in progress.
The market is 10,000 square feet of fresh produce, meats, fish, groceries, vitamins and skin-care lotions. A large, bright kitchen has an in-store bakery and provides take-away meals, while there is a tasty selection of Calgary-made Kombucha fermented teas. Have a sample, fill a bottle and come back and fill it again.
Above the store, Blush Lane has leased another 3,000 square feet that houses the company's head office.
Rob Horricks got his first real job at age 16, working in a Safeway store where he became interested in the developing trend to organic foods.
In 1998 he started his own company, Organic Express, which delivered orders to homes across the city. The couple then opened a stall in the original Farmers Market in Currie Barracks and quickly earned a wider reputation.
In 2006, he sold his home-delivery business to Vancouver-based Spud (Sustainable Produce Home Delivery), and with the money purchased the 10-acre orchard in Keremeos, B.C., in the picturesque Similkameen Valley, the organic capital of Canada.
"It's in a community of farmers who just like to share their passion for growing healthy foods," Rob said when asked how he learned how to run an orchard.
He became a member of the board of the Certified Organic Association in British Columbia, where he served as its treasurer for four years. When the group learned he had studied business and environmental entrepreneurship at the University of Calgary, he was a shoo-in for the role.
At Keremeos, 20 varieties of apples are grown to be ready for harvesting at different times. Ripeness is essential, and the fruit — including, apricots, plums, peaches and nectarines — are picked every day.
Blush Lane is still a popular seller in the Farmers Market and in 2008 opened its first full-service store in Aspen, followed by a successful Edmonton location on Whyte Avenue in 2012.
The Horricks have built an "organic, local, direct" business that thrives thanks largely to the partnerships it has cultivated with local farmers, producers and businesses.
Their employees get to visit the farms, and farmers come into the stores to tell their story to them and to customers interested in being educated on the benefits of buying the best foods.
Opening another new store was a big step for Rob and Zenya, but they already have plans to open two more 10,000-square-feet Blush Lanes — one in Ronmor Developer's new building in Marda Loop and another in Windsor by Arlington Street that's under construction along Elbow Drive S.W.