Organic produce from farm and greenhouse near Coaldale, Alberta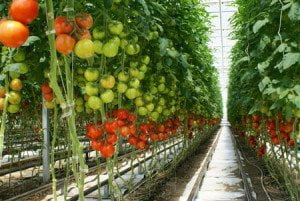 Mans Organics, a two-generation family farm near Coaldale, has been growing in Alberta since 1982. Having been conventional farmers, the family wanted an alternative to using chemicals. The change has proved to be a a good decision and the 100 acre farm has now been certified organic for seven years.
They constructed a half-acre greenhouse to extend their growing season from March to November, expanding their vegetable crops from onions, shallots and garlic to include tomatoes, cucumbers and peppers.
The Mans' farm, adjacent to a 1200-acre natural area that supports a 600-acre lake and a vast variety of birds and other wildlife, is a good example of how organic agriculture can protect the natural environment.