Organic turkeys from Dalemead, Alberta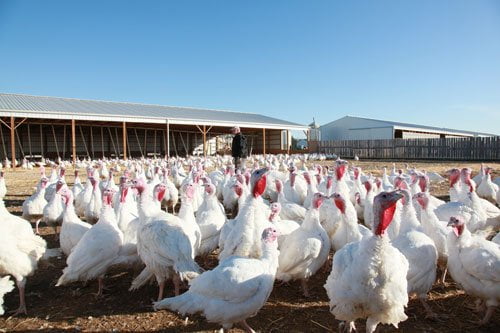 The Winter family has been raising organic turkeys on their Alberta farm in Dalemead, southeast of Calgary, for four generations. The Winter's birds are humanely raised with total consideration for their comfort and well-being. The turkeys are regularly provided with clean bedding and have unlimited access to fresh water and the outdoors.
The turkeys are provided a whole grain diet that is supplemented with organic greens and forage. Their total diet is 65% whole grain and as a finishing ration they are fed 90% whole grain. The Winters raise primarily hens that finish in about 18 weeks. The feed program produces an excellent finish and a naturally self-basting turkey with a delicious flavour. The Winter family is dedicated to practicing sustainability for the planet and providing respectful husbandry for their animals. They have built their reputation on quality and make every effort to maintain it.
Visit the Blush Lane stores in Edmonton and Calgary to try turkey from the Winter family.