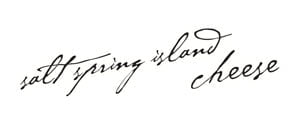 Handmade cheeses made with natural ingredients from Salt Spring Island, British Columbia
From the beautiful island of Salt Spring in British Columbia comes a goat cheese that is made from all natural ingredients using traditional methods. Salt Spring Island Cheese Company has been making cheese since 1996 and now it known across North America for its renowned chevre, feta and hard goat cheese.
Salt Spring Island is located in the Gulf Islands and is directly east of Vancouver Island. Even though it is one of the most populated islands, it is known for its abundant natural areas.
To get a taste of Salt Spring Island, try Salt Spring Island Cheese Company's goat cheeses at Blush Lane stores.