Organic cow milk, cream, whole goat milk and goat feta from Ponoka, Alberta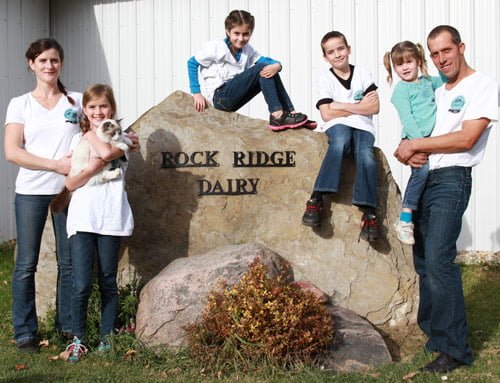 The Bos Farm and Rock Ridge Dairy is located in the County of Ponoka Alberta and run by the Bos family. Patrick and Cherylynn Bos began farming 18 years ago. At the age of 22 they had little money but a great desire to farm, so they changed the family farm from a beef and grain operation into a goat dairy. In 1999 they began milking for a Ponoka based processing company, however in 2004 that plant closed, which lead to the couple building a goat milk and cheese processing facility on the farm.
Rock Ridge Dairy is now pleased to offer quality farm fresh goat milk and cheese products from their own farm and four other area farms to Western Canadian consumers. Organic Cow milk and Cream products under the family's Rock Ridge label were added later to diversify the product base and butter and cheese are being worked on to expand the product line further.
The Bos family works hard to keep their herd healthy and happy and have built a new barn and milking parlour this spring that will be they first of it's kind in North America. This will reduce milking times dramatically, giving them more time to take care of their animals and young stock, and giving the goats more time to do what they do best, playing, eating, sleeping and of course making milk!
Having four children of their own an knowing the importance of milk as part of a balanced diet Patrick and Cherylynn have started their "Drink Milk so Kids can too!" program that will see 2.5 cent for every liter of their Rock Ridge Brand products sold, donated to the food bank for their children's milk program. This program ensures those in need are able to receive regular milk servings. They also are seeking personal and corporate donations through their website to go directly to the food bank program as the demand is so great. Children are our future and Patrick and Cherylynn hope to grow their dairy and processing operation into a viable operation for their own young and growing family so that they will see the farm succeed into the next generation and beyond.
Patrick and Cherylynn Bos have recently won the title of Alberta's Outstanding Young Farmers for 2015 and the Canadian Title for 2015! See this video to learn more about Bos Farms and Rock Ridge Dairy: