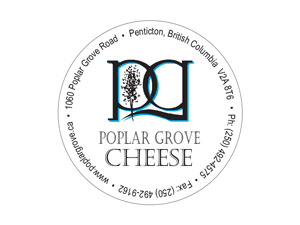 Handcrafted French-style cheeses from Penticton, British Columbia
From the banks of Okanagan Lake comes Poplar Grove Cheese, a line of artisan cheese made with local ingredients. Their cheeses include double cream camembert, harvest moon washed rind and flavourful blue cheeses. Poplar Grove Cheese was started in 2002 to compliment the rising wine industry in the Okanagan area.
Poplar Grove Cheese uses milk from Dutchmen Diary in Sicamous, and all their cheese is made at their farm where they also have a vineyard.