Organic goat milk and goat cheese from Fort Macleod, Alberta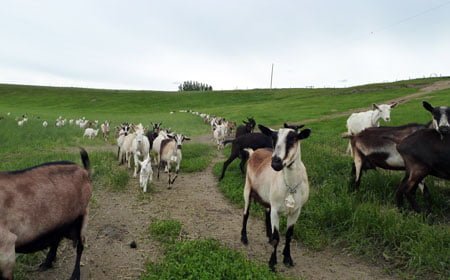 Fairwinds Farm produces organic goat milk and cheeses from goats they raise on their farm.
The Oudshoorn family are the people behind Fairwinds Farm, which is located near Fort Macleod. They began goat farming in 1994 and started selling milk in 1999.
Now Fairwinds Farm is renowned for its organic milk and cheeses, most notably chevre and feta. As an organic farm, Fairwinds Farm does not use chemical inputs for the feed they grow and do not use hormones or antibiotics in the goats. Their cheeses and milk are free of additives and colouring.
Visit our stores to try Fairwinds Farm's organic goat cheese and milk today!