Yogurt and sour cream from a dairy farm near Lacombe, Alberta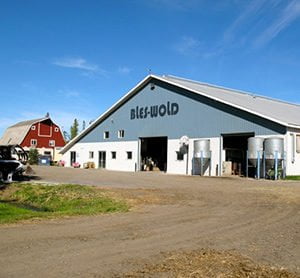 Bles-Wold Dairy and Yogurt creates a variety of yogurt and sour cream products from their farm near Lacombe. They raise the cows and produce their own yogurt, meaning it only takes three days to go from cow to grocery shelf.
Bles-Wold Dairy was started in 1994 by the Bos-Eilers family, and they started producing dairy products in 1996. Now they offer yogurt made of only natural ingredients and live probiotic cultures, sour cream, Greek yogurt and yogurt drinks. All the dairy comes from their farm, which now has nearly 300 cows.
Lacombe, AB
Cow dairy products