To Our Valued Customers,
We want to take this time to thank you for your continued support. Throughout this pandemic, the light has been our customers. We appreciate and are thankful for each and every one of you. As much of Alberta begins to open, we wanted to highlight the importance of safety for our staff and customers with a few updates.
You'll see when shopping in store, we have been working hard to keep our shelves stocked, focusing on local farmers and producers with an emphasis on high-quality produce and meat. We want you to know our commitment to supporting local is at the heart of everything we do.
We want you to be able to shop with peace of mind knowing that we're doing everything possible to keep our stores and staff safe. We continue to practice social distancing and have capacity limits at each location to ensure you have a safe and enjoyable shopping experience. Evenings after 7 pm are still our quietest time. Below are a few guidelines we wanted to highlight:
All employees are required to wear

 face masks to help protect them against air-borne water droplets associated with COVID-19

All our stores require employees to have their body temperature taken at the start of their shift to ensure they do not have a fever.
We continue to have sanitation stations for customers as they enter and exit our stores.  Please sanitize your hands on entering the store.
As of November 24, according to the Government of Alberta, masks are mandatory in all indoor workplaces, except when working alone in an office or a safely distanced cubicle or an appropriate barrier is in place. This applies to all employees, visitors, delivery personnel and contractors. We are requiring all customers and the public to adhere to this Public Health Order when entering any Blush Lane location. *MAXIMUM of 1 (ONE) Medical Mask Exemptions in the store at a time. 
We are now accepting reusable bags back into our stores. In order to keep everyone safe and maintain 6′ distance, our cashiers will pack your bags for you as you stand behind the till barriers.
Additionally, we have also opened up our kombucha on tap program. We will provide customers with a complimentary bottle and will charge you for a refill only. Your safety is our priority so we ask that no used bottles are brought in at this time.
Our bulk section and pink bag takeback program remain on hold. As soon as we can open these two programs up again, we will be sure to let you know.
Like everyone, we hope these safety measures can slowly come down over time. We are taking our cues from the Provincial government and Alberta Health Services and will continue to follow their guidelines to ensure safety for everyone
Stay safe and stay well,
The Blush Lane Team
Shopping tips to help with the safety of our staff and our customers.
Please shop alone when possible, not as a couple or a family.  Fewer bodies in our store at any given time help lower everyone's rate of exposure.
Make your shops larger and less frequent. If you have always been a 3x/week shopper, consider becoming a once a week shopper by planning ahead.
Please consider debit and credit. We will accept cash but would prefer to not handle cash at this time.
Shop for your friends, family & neighbours, (particularly anyone who is vulnerable)
Use a shopping buggy instead of a basket. The nature of a shopping cart's size will ensure distance between you and other shoppers & staff.
Please respect the social distancing markers we have laid out in the store to help with visibility on what 2 metres looks like.
Please take what you touch.
Plexiglass has been installed for all cashiers to minimize their contact with your guests at this time.
Clean your hands before and after leaving the store, be mindful that coming in with clean hands reduces risk for all staff and customers sharing the space. We have well equipped customer bathrooms available, and a limited supply of sanitizing stations.
Please leave the first hour of the day 9-10am (8-9am for Aspen Woods) to the elderly or vulnerable customers to do their shopping (if they don't have someone to do it for them). 
Consider shopping during our quieter hours which are earlier in the mornings and later in the day. We see the busiest times from 12pm to 6pm.
All customers must wear a mask when entering our stores, effective November 24, according to the Alberta Public Health Order.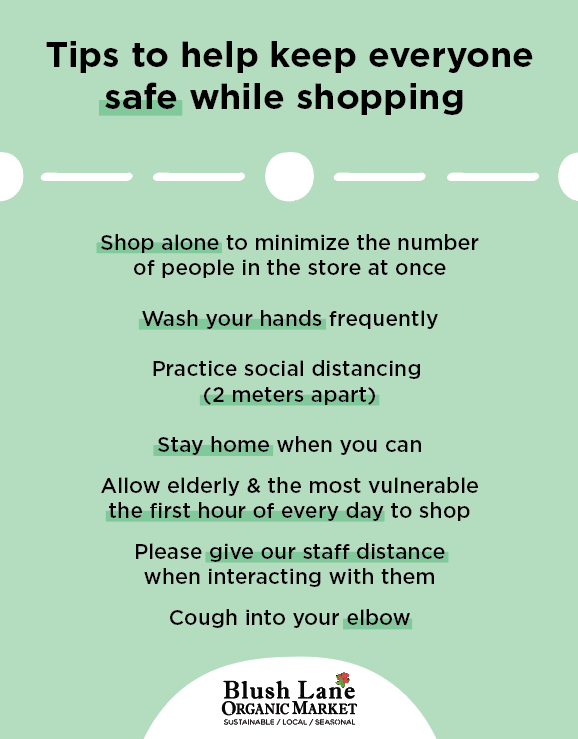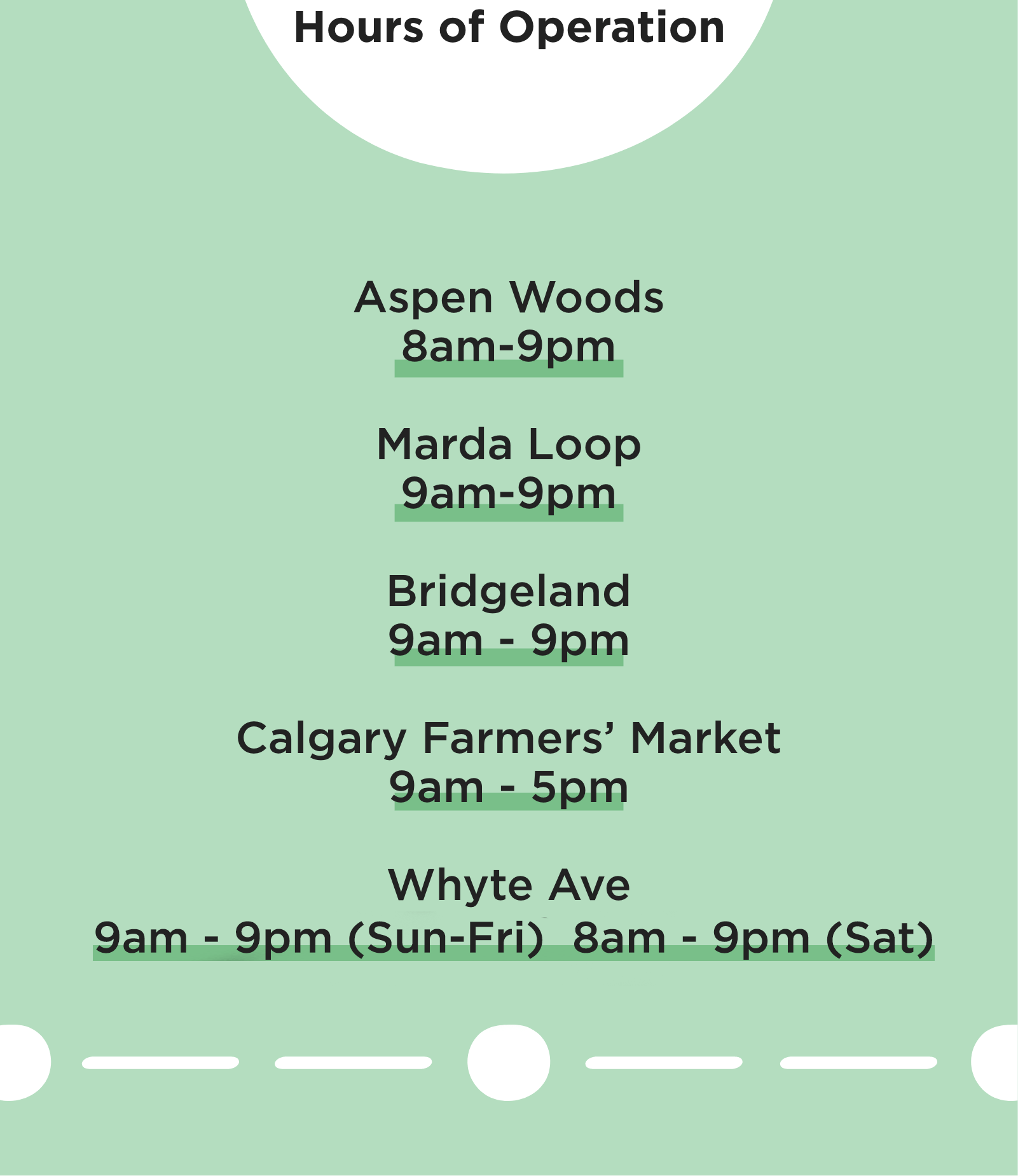 We want to take this opportunity to recognize how incredibly proud we are of our team, who are working tirelessly to serve our communities.
While the rest of Canada and much of the world has been asked to stay at home, our teams are filling our stores and serving our customers. Everyone on the Blush Team always works hard, but now they are being called to provide a level of customer service above and beyond what we ever imagined we would have to ask them, and for that we owe them an enormous thank you.