Mediterranean pita bakery and deli in Edmonton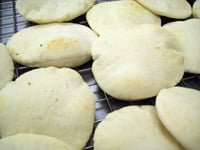 From fresh baked pitas to dips, The Happy Camel brings Mediterranean flavours to Edmonton.
The Happy Camel was started in 1998 by Gerald and Sara Larson out of their home. Now The Happy Camel is owned by Ron and Mary Anne Korn, who carry on the authentic Mediterranean recipes.
All of their products are free of preservatives, additives and trans fats. The Happy Camel offers a variety of pita breads (including organic 100% whole wheat and gluten-free pitas), fresh dips, spreads, hummus, salads and falafels.
Available only at the Blush Lane Edmonton location.